By supporting Fondation Ensemble you support projects… and nothing other than projects
---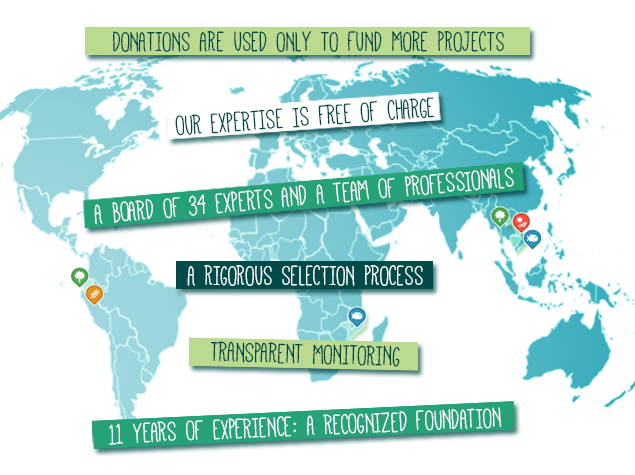 As from €40,000 support, co-fund a major project in one of the foundation's sectors, with a personalized follow-up
Sustainable Agriculture and Fishing, Biodiversity Conservation, Sustainable Technologies… Fondation Ensemble has been funding projects in these 4 sectors since 2004. Its Board of experts is made up of 34 members, who take part in a rigorous selection process. Like all the Foundation programs, yours will benefit from the expertise of its team and will be closely monitored, including in the field.
The Oak Foundation and the Synergie Solaire endowment fund have already put their trust in us. Join them, become our next funding partner and let us give ourselves the means to move forward, together…

'We have a lot in common with Fondation Ensemble when it comes to our world view … And that's very important for me – just as important as expertise. Because it's not enough to dream of changing the world, you have to be able to make your dream come true.' Read more here
Leonardo Lacerda
Director of the Environment Programme – Oak Foundation

'I am delighted to be co-funding a project with Fondation Ensemble, which I had come across several times along the way, and which never hesitates to put all its project monitoring expertise at our disposal…' Read more here
Hélène Demaegdt
President – Synergie Solaire endowment fund
Fondation Ensemble is a state-approved foundation
This means that it can issue official receipts for tax deductions such as, in France:
Real Estate Wealth Tax ('Impôt sur la fortune immobilière') (75%, up to a ceiling of €50,000)
Income Tax (66%, up to a ceiling of 20% of taxable income)
Corporate Tax (60%, up to a maximum of 0,5% of annual turnover before tax)
For more information, feel free to contact us by phone +33 (0)1.45.51.18.82 or by using our contact page.
Examples of programs requiring co-funding :