Thanks to your donation, support an 'Endangered animal species' project
---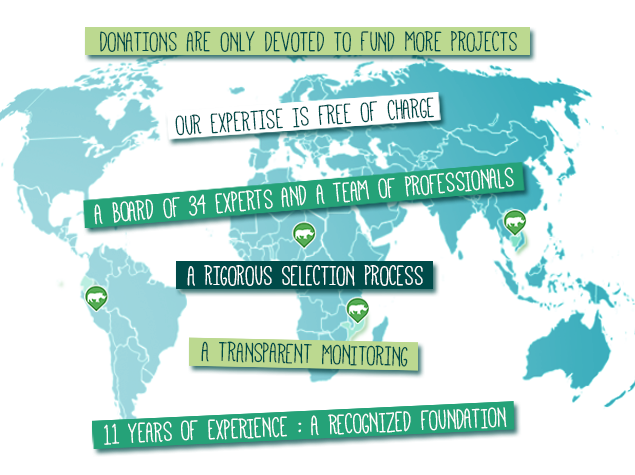 Conservation of 94 animal species has been supported since 2004
Fondation Ensemble does not intend to raise funds among general public. However, to support more projects, we are looking for partners and philanthropists.
As from 3 000 €, you can sponsor an 'endangered animal species' project of your choice. You will get customized news from the program you support (you already can review all the ongoing and finished projects here).
IF YOU WISH TO CONTRIBUTE MORE SIGNIFICANTLY TO FONDATION ENSEMBLE'S WORK, BY CO-FINANCING A LARGER PROGRAM, CLICK HERE .
Fondation Ensemble is a state-approved foundation
This means that, if you pay taxes in France:
Your donation is 66% tax deductible, up to an equivalent of 20% of your taxable income, as part of the income tax.
75% of your donation to Fondation Ensemble is deductible, up to € 50,000, under the 'Impôt de Solidarité sur la Fortune' (ISF).
You can download your donation form and send it back to:
Fondation Ensemble – 1 Rue de Fleurus – 75006 Paris
You can also make your donation by bank transfer :
Bank Name : Paris Agence Centrale
IBAN : FR76 3000 3030 1000 0372 9518 178
BIC : SOGEFRPP
We will send you a fiscal certificate by post.
For more informations, feel free to contact us by phone +33 (0)1.45.51.18.82 or by using our contact page.