Peru
Promoting an inclusive model of clean, responsible artisanal and small-scale mining (ASM), based on the Fairmined Certification system, in the region of Puno
---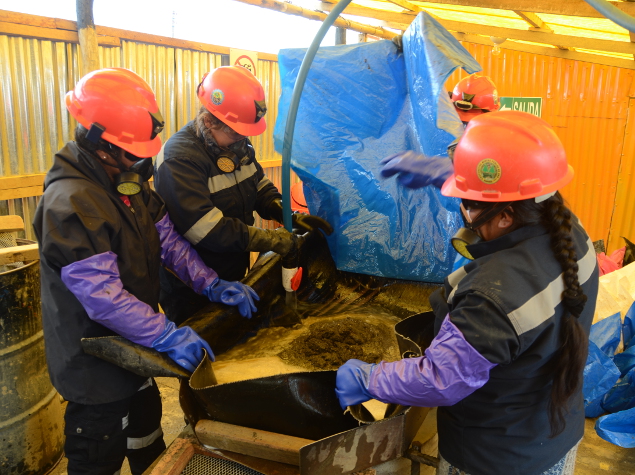 In 2017, Peruvian gold exports amounted close to US$8 billion, making gold the second most important resource after copper. Peru has between 350 000 and 500 000 artisanal miners.
The district of Ananea (Puno region), to the north of Lake Titicaca, has 33 000 inhabitants, the majority of whom are dependent on the local mine. Many mining cooperatives exist, with relatively well organized workers. However, most informal miners, particularly the bateadoras (gold panners) work in precarious conditions as they are poorly organized and have no access to clean technology. Environmental pollution caused by mining companies' uncontrolled use of mercury is also causing problems (the waste is discharged directly into one of the tributaries of Lake Titicaca). Moreover, the women live in difficult conditions because of unprotected use of mercury. They pan for gold from economic necessity but lack the entrepreneurial capacity to gain financial independence and find viable economic alternatives. The only support they have received is through the government program Vaso de leche ('glass of milk'), which aims to reduce the malnutrition that affects over 80% of children in Ananea.
Overall objective:
This project, run by ARM (Alliance for Responsible Mining), aims to improve the quality of life of small-scale artisanal miners by reducing the environmental and human impacts of toxic substances. It encourages the mining community to participate in designing local policies and supports the adoption of better social, business and environmental practices that comply with the Fairmined Certification Standard.
In the selected area, ARM already works with artisanal and small-scale mining organizations (ASMOs). In 2016, one cooperative obtained Fairmined certification, setting an example for other stakeholders in the area. In Relave (Ayacucho), ARM is also collaborating with the Colorado School of Mines on a project to reduce mercury use in gold processing, which has been extended to Ananea. Finally, since 2017, ARM has been piloting a local mining governance model in order to foster community involvement in decision-making, in particular enabling the development of a common, responsible vision of the mining sector.
Planned initiatives:
Two small companies and a cooperative, located in Ananea, have already expressed interest in receiving support to improve their practices, not only for eliminating mercury but also for marketing their gold, with the aim of becoming certified. A total of 263 miners are involved, including 75 women.
Various initiatives are planned in the framework of this project:
– A mining governance model that is both transparent and inclusive will be implemented in the municipality: A field study will be conducted to identify the main issues and opportunities for piloting the mining governance model. Local management committees will be set up. The governance model and a multi-stakeholder action plan will be implemented. A communication strategy will be drawn up with community leaders.
– Good mining practices will be established by the vulnerable groups who are involved in ASM and the ASMOs, following the Fairmined Standard specifications: A field study on groups of vulnerable miners will be carried out and an action plan drawn up. Three ASMOs will be supported in the formalization process, as will mining organizations for sales.
– An efficient monitoring system will be set up, and the project outcomes will be extensively disseminated through regional and national level exchanges.