Peru
Promote and upscale an inclusive, responsible and gender-sensitive model of clean, responsible artisanal and small-scale mining (ASM), based on the Fairmined Certification system, in the region of Puno
---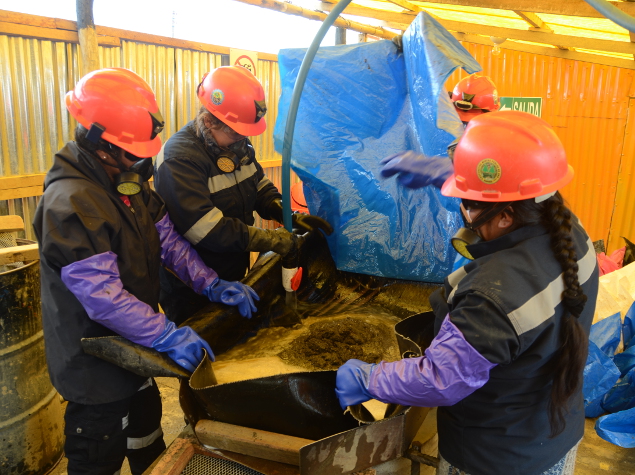 In 2017, Peruvian gold exports amounted close to US$8 billion, making gold the second most important resource after copper. Peru has between 350 000 and 500 000 artisanal miners.
The district of Ananea (Puno region), to the north of Lake Titicaca, has 33 000 inhabitants, the majority of whom are dependent on the local mine. Many mining cooperatives exist, with relatively well organized workers. However, most informal miners, particularly the bateadoras (gold panners) work in precarious conditions as they are poorly organized and have no access to clean technology. Environmental pollution caused by mining companies' uncontrolled use of mercury is also causing problems (the waste is discharged directly into one of the tributaries of Lake Titicaca). Moreover, the women live in difficult conditions because of unprotected use of mercury. They pan for gold from economic necessity but lack the entrepreneurial capacity to gain financial independence and find viable economic alternatives. The only support they have received is through the government program Vaso de leche ('glass of milk'), which aims to reduce the malnutrition that affects over 80% of children in Ananea.
Overall objective:
This project, run by ARM (Alliance for Responsible Mining), aims to improve the quality of life of small-scale artisanal miners by reducing the environmental and human impacts of toxic substances. It encourages the mining community to participate in designing local policies and supports the adoption of better social, business and environmental practices that comply with the Fairmined Certification Standard.
In the selected area, ARM already works with artisanal and small-scale mining organizations (ASMOs). In 2016, one cooperative obtained Fairmined certification, setting an example for other stakeholders in the area. In Relave (Ayacucho), ARM is also collaborating with the Colorado School of Mines on a project to reduce mercury use in gold processing, which has been extended to Ananea. Finally, since 2017, ARM has been piloting a local mining governance model in order to foster community involvement in decision-making, in particular enabling the development of a common, responsible vision of the mining sector.
Summary of the first phase's final report:
ARM's central strategy in Puno is to improve miner practices and the certification of artisanal and small-scale mining organizations (ASMOs). At the end of the first phase, 2 mining organizations were recertified Fairmined and a third one, Cruz Pata, was certified for the first time, joining the Fairmined ASMO family in Peru.
ARM supported the establishment of a transparent and inclusive mining governance model in the municipality of Ananea through the adoption of a concerted local long term action plan. A participatory communication strategy was finalized and implemented with several awareness-raising objectives (marketing and export of Fairmined gold, promotional video of Fairmined certified mines on the benefits of certification, visibility of the activities and results obtained in the framework of the project, specific materials for the bateadoras, institutional video on the risks of using mercury, etc.). 77% of the beneficiaries claimed to have improved their knowledge on environmental issues as well as occupational health and safety.
Good mining practices have also been established with vulnerable groups engaged in small-scale mining, according to the guidelines of the Fairmined standard. A groupment, gathering 7 associations with 140 pallaqueras, has been created and 46% of them (64) have a legal status at project end. An association bringing together 21 former bateadoras, called "Divinas en brillo de oro", was also created in November 2018: they benefited from a 5-week training in jewelry and 1 business plan was built with them.
The environmental practices of the 2 recertified ASMOs, CECOMIP and Oro Puno, now fully comply with all the criteria required by the Fairmined Standard and no longer use mercury, and Cruz Pata, which was certified for the first time in 2020, has a compliance rate by 79% with a sharp reduction in the use of mercury (which will soon be eliminated). In total, during this first phase, more than 55 kg of Fairmined gold was exported, which allowed the OMAPEs to receive a Premium invested in social improvements, for the benefit of its workers and, more globally, of the local community.
The different beneficiary groups were regularly consulted in the monitoring-evaluation processes and a final case study systematizing the main results and lessons of the project in Ananea was finalized and shared with the key actors of the project. The responsible mining model of Ananea was also presented in 2 strategic events at the national level for replication.
In 2020, Fondation Ensemble is contributing further to this project:
Phase 1 of the Fondation Ensemble grant enabled to evidence several major bottlenecks to formalization, commercialization, and hence the establishment of responsible supply chains. Also, a study published by ARM shows a masculinized mining sector, with a macho culture where discrimination of women in the workplace is common and visible in aspects such as hiring, work, personal and family conciliation and respect of sexual and reproductive rights.
This second phase will strengthen and upscale the holistic Fairmined model as a solution for formalization and the spreading of responsible mining practices in Ananea, with a reinforced gender approach. This will be done by involving technical assistance and political dialogues aiming at influencing policies. Women and men miners will be empowered to facilitate their participation in decision-making and advocacy spaces. A mining governance will be created to spread responsible ASM as well as best practices and identify priorities for action. Dialogue and advocacy spaces will be facilitated with decisions makers including workshops to identify the barriers for the construction of responsible supply chains.
At least 2 new mining organizations will be supported to improve their practices towards Fairmined certification. 3 certified ones will be supported toward recertification. The environmental management in ASM as well as the mitigation of related impacts will be improved, with a focus on water and soils contaminated by mercury. An environmental pilot mining will be implemented in one Fairmined certified ASMO.
A diagnosis of gender gaps will be done in the Puno region. Support will be provided toward 2 groups of vulnerable women to strengthen their socio-economic resilience and their health/sexual and reproductive health. A pilot managements system for gender equity will be implemented within 1 Fairmined Certified ASMO.
The whole process will be monitored and capitalized. The achievements and lessons learned from the project will be disseminated. This will be done to inform decision making and the revision of the Fairmined Standard.
To find out more on the benefits of the Fairmined certification, check out the news available here.