Ecuador
Women of the Andes, change makers in resilient and inclusive communities
---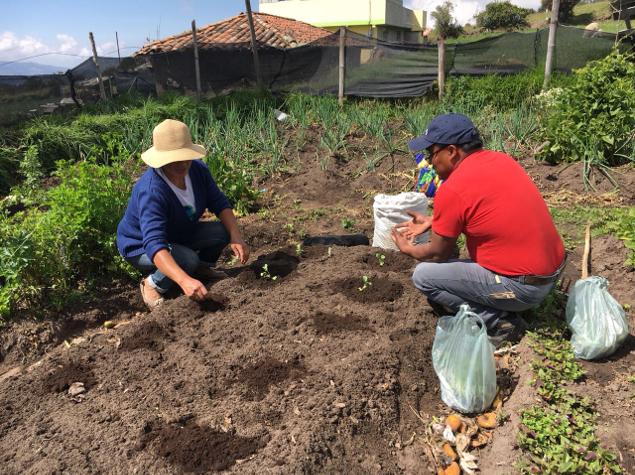 Context:
Andean women are the driving force of agricultural production in the country's northern corridor. However, lack of access to land, capital, technology and citizen participation in rural communities means that these women have little involvement in either public or private decision-making. Furthermore, their rights are often violated and they remain victims of gender-based violence, particularly in the areas of sexual and reproductive health.
As part of a previous CARE project supported by Fondation Ensemble in Pedro Moncayo canton, a Cantonal School of Agroecology was set up. This school is now training 200 producers (90% women) in sustainable agriculture and product marketing. A protected sustainable farming area of 6,000 hectares has received national approval. A land use planning model has been developed, along with an associated financial scheme for conservation, the Water Fund. The Mojanda lake system covered by this project extends not only over Pedro Moncayo and Cayambe cantons but also Otavalo, hence the need to extend the implementation zone to that side of the Mojanda Lagoon.
Objective:
The aim of this new phase is to promote the mobilization of farming organizations, and particularly women, to influence local policy on climate change and gender. This will be achieved in two ways: first, through capacity building for innovation, use of technology and circular product marketing; and, secondly, through support for sustainable and environmentally friendly production strategies, financial training, social marketing and round tables with social enterprises. The project will also encourage strong community involvement in the prevention, mitigation, and protection of women against gender-based violence, particularly sexual violence.
Initiatives:
The potential for sustainable and resilient agriculture will be strengthened through the implementation of strategies aimed at innovation, climate change mitigation/adaptation, entrepreneurship and the social economy for women producers and/or entrepreneurs in the community. Training programs (in law, finance, marketing, etc.) will be run, and social enterprises will be set up and put in touch with local producers.
Similarly, sexual and reproductive rights will be promoted on the same basis as economic rights. Comprehensive citizen participation mechanisms will accordingly be created for the adoption, monitoring and enforcement of local public policies in favor of women's rights. Women's organizations will be helped to develop their competencies in the areas of gender-based violence, sexual and reproductive rights and self-care, as will the staff of health centers. Finally, community-based savings groups will be set up to improve access to credit and promote economic self-sufficiency.
Local government capacity will be strengthened, and collaboration and experience-sharing processes between the different cantons, civil society and private companies will be developed in the fields of entrepreneurship, inclusion, climate change resilience, and women's rights. These improvements will promote a model of resilient and inclusive communities, free from gender-based violence, which ensures good governance and the sustainable use of natural resources.
To find out more about Phase 1 of this project, click here.
Here are two videos of workshops and meetings (in Spanish with French subtitles):