Ecuador
Enabling communities in the Andes to adapt to climate change  through the management, conservation and restoration of the páramos
---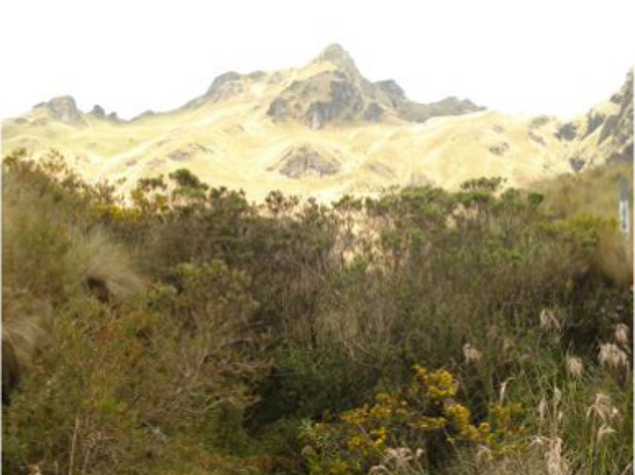 Pedro Moncayo is a canton in the north of Ecuador, made up of páramos (a unique highland ecosystem). This high-altitude neotropical biotope, situated in the Andes range, between the forest edge and the permanent snow fields, is of great scientific and ecological significance because of its endemic flora. It is also a source of drinking water for most of the population living in the northern part of the Andes.
The páramos in the Pedro Moncayo region are under threat, not only from climate change but also from the migration of small farmers, driven away by the creation of an industrial belt in Pichincha province. The use of outdated agricultural techniques is causing rapid soil damage there.
At the same time, the agricultural exporting sector has grown, in particular for floriculture, leading to concentration of production. This phenomenon has led to over-dependence on the sector and vulnerability to price fluctuations and to fall-off in demand. As floriculture is one of the area's main economic activities and is highly water-intensive, the sector's stakeholders will be closely involved in the project, particularly through public awareness campaigns.
To address these challenges, this project, run by Care, aims to reduce the vulnerability of communities in the parishes of Tupigachi and Tabacundo (Pedro Moncayo canton), situated in the páramos of the High Andes, to the impacts of climate change on their livelihoods.
In order to achieve this goal, various initiatives are planned:
Techniques for restoring the ecosystem of the páramos, by means of agroforestry, silvopastoral and related forestry systems will be carried out, with strong community involvement. First, a socio-environmental assessment will be conducted, covering sustainable agriculture, adaptation to climate change and community-based risks in the area. An environmental education and participatory research program will be launched, and six family-run nurseries will be set up to improve production of the area's native plants. Finally, 110 hectares of forest and areas reforested through restoration techniques, as well as a protected municipal area, will be developed.
A sustainable technical assistance program will be established for the communities and families, with a focus on high-altitude farming techniques that are resilient to climate change, and on improving living conditions. To this end, field schools will be set up, along with 50 integrated farms. These farms comprise a garden where a large variety of vegetables and fruit trees will be grown, a water supply, a composter, and cages where small animals can be raised. A network of regional producers, based on exchange of experience on agroecological production will be set up, and an early warning system put in place. Lastly inclusive businesses will be established (promoting involvement of the poorest individuals in the added-value creation chains) so as to improve the living conditions of the beneficiary farmers.
The decentralized autonomous governments (Gobierno autonomo descentralizado – GAD), at municipal and parish level, will draw on regulations, methodologies and tools to ensure that land use planning is in line with good practice for climate change adaptation. To achieve this, the project will provide the GAD with technical support for páramos ecosystem management and productive development. A páramos monetary fund will also be established.
Final report summary:
The vegetation cover on the shores or nearby the water sources increased by more than 15%. 9 domestic nurseries of endemic forest species have been created, in order to restore and preserve the Andean zones: 137 hectares have thus been reforested to protect connectivity corridors of the plots and water sources, and to implement sylvopastoral systems. The Mojanda municipal conservation protected area, covering 6,000 hectares, has been approved by the Pedro Moncayo decentralized autonomous government (GAD).
A training plan in sustainable agriculture and climate change adaptation has been elaborated and implemented, with inclusive approaches, thanks to the creation of a Cantonal School of Agroecology. 224 people attended this training program and achieved certification through the Participatory Guarantee System. Among them, 86 women were trained in agroecological techniques and 60 producers (man and women) have implemented at least 3 soil conservation techniques in their integrated farms. For marketing, an agroecological producer network has also been set up and 2 inclusive enterprises centered on social economic initiatives are also operational to develop short-circuits.
A planification territorial model has been developed, systematized and centered on sustainable agriculture, the long-term use of the ecosystem, climate change resilience and the economic and social autonomy of women agricultural producers. 1 emergency plan for 200 hectares has been developed and used for risk management, training of community brigades and early warning system enforcement. 4 GAD technicians strengthened their capacities in setting up climate change adaptation plans and 6 others in agroecological production. Finally, a financial compensation and promotion scheme in the conservation and restauration of the Pàramos ecosystem, called 'Water Fund', has been created thanks to an agreement with private and public institutions.
To find out more about Phase 2 of this project, click here.
Discover the testimony of Consuela Pastor, farmer involved with the Care project in Ecuador.
Check out also the testimony from Maria Jhoana Andrango Guezvo, farmer: