Peru
Empowering Coffee Growers in Conservation of the Alto Mayo Protected Forest in Peru
---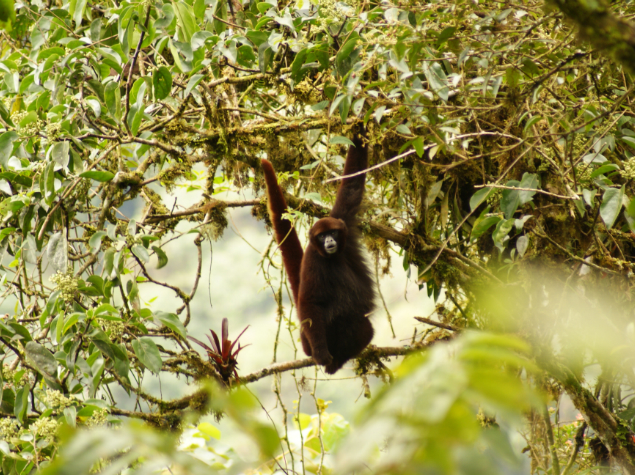 The Alto Mayo Protected Forest (AMPF) is vitally important for ecosystem services (clean water, carbon storage, and provision of habitats for biodiversity) linked to human well-being. However, despite its designation as an official Protected Area in 1987, lack of funds, limited government presence for management, law enforcement, construction of a national highway across the AMPF in 1975 and high rates of human migration from the Andes to the Amazon region have resulted in widespread settlements inside the area. Additional threats to the area in the last decade include habitat degradation and destruction associated with the paving of the road, the rising price of coffee in the absence of adequate agricultural practices. Land use planning has contributed to accelerated deforestation and subsequent loss of ecosystem services.
To improve livelihoods and reduce deforestation, Conservation International and Peru's National Service of Natural Protected Areas (SERNANP) use conservation agreements to provide to the settlers incentives to help conserve the area. In the agreements, settlers commit to protect the forest in exchange for tangible economic benefits, including improvement of organic production of coffee, the area's most important cash crop. This pro-poor benefit is part of a wider conservation initiative that includes a financial sustainability plan based on sale of carbon credits obtained from reduced emissions from deforestation and forest degradation (REDD+) to finance the conservation agreements and other conservation actions in the AMPF in the long run.
With support from Fondation Ensemble, we propose to scale up the conservation agreement model to local coffee grower associations by building their capacity to increase quality and quantity of their coffee output, expanding their memberships, and helping them secure better access to preferential organic and fair trade international coffee markets. This will include a focus on the role of women in the certified production system. The agreements also strengthen social structures by helping settlers join formal producer associations and allowing community members to engage directly with SERNANP in forest protection. They create better governance conditions inside communities, reinforcing respect for the rule of law. Thus, conservation agreements offer a win–win solution in an area where historically local settlers have faced a choice between seeking out unsustainable economic opportunities or protecting the forest.
The overall objective of the project is to improve organic coffee practices to strengthen community livelihoods and motivate enhanced forest and biodiversity conservation in the AMPF.
Specific objectives are:
Objective 1: Promote the adoption of more sustainable agricultural coffee production systems (in particular shade grown), leading to better yields, better quality, and access to preferential markets, which will result in better livelihoods for local communities and increased resilience against climate change.
Objective 2: Engage local communities in conservation and encourage behavioral changes in coffee growing areas to reduce their impacts on forest, biodiversity, and water resources.