Ghana
Securing the Future of Endangered Primates in the Ankasa Conservation Area
---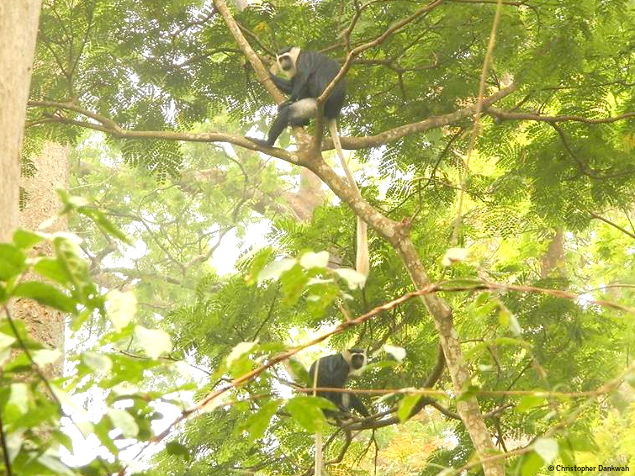 The current status of endangered primates at Ankasa Conservation Area (Ghana) as well as their population sizes and distribution are unknown. Recent surveys have failed to document some endangered species, particularly the Western Chimpanzee, although researchers have confirmed their presence. In Ghana, primates suffer from the booming unsustainable bush meat trade mainly due, with deforestation, to lack of alternative livelihood sources. Dying interest and respect for taboos, weak and/or non-existing collaborations, policies and or grassroots hunting regulations are also among the current challenges in the area.
This project seeks to contribute to the long term protection, existence and conservation of healthy viable populations of four endangered primates : roloway monkeys, white-naped mangabeys, black-and-white colobus and chimpanzees in ACA. 
The main objectives will be:
Assess current status of endangered primates and estimate the relative abundance in ACA
Prevent local extinction by reducing illicit hunting of primates and improve livelihood of rural fringe communities through alternative livelihood sources
Enhance the capacity of local Wildlife staff and increase knowledge in endangered primate population monitoring and management
Improve resource governance and conservation through collaborations and grassroots initiatives
Final report summary (July 2019):
25 transects of 1 kilometer long have been established, allowing to conduct a study on species habitat but also on poaching. 15 camera-traps have also been installed. The abundancy of two species has thus been evaluated: the Cercocebus Lunulatus and of the Black-and-white colobus monkey. Unfortunately, the chimpanzee has not been studied, even if its presence has been confirmed thereafter. The same applied to the Roloway monkey.
15 farmers and hunters were trained and equipped to practice bee farming and grasscutter raising. 30 farmers were also trained on climate-resilient agriculture.
10 members of the reserve staff were trained in data collection and populations monitoring.
Finally, a forum has been held with various stakeholders on the importance of the species evolving in the forest and their eco-touristic potential.
This project is partly funded thanks to the sponsorship of a generous donor. If you also wish to support initiatives towards threatened animal species conservation, click here.