France
Awareness campaign: Parole de Lynx
---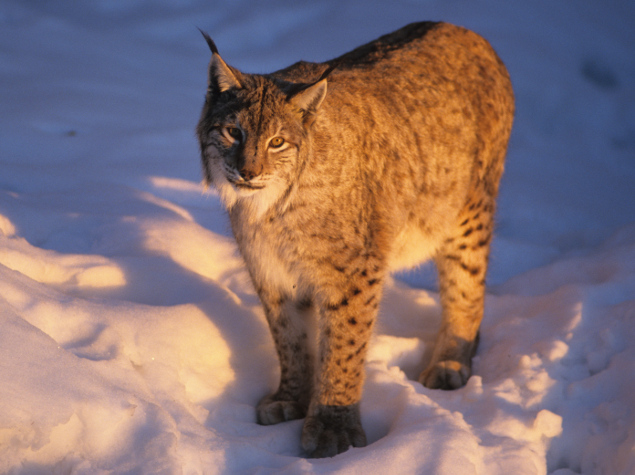 The Eurasian lynx (Lynx lynx) is classified on the IUCN Red List as 'endangered'. The lynx's situation is critical in France because of its small population and fragmentation. A lack of knowledge of the species has also led to problems with acceptance and both direct (poaching) and indirect (road collisions) destruction. Three population cores exist: the historical Vosges core (only two males are known to live in the range); the Jura core, with between 80 and 100 individuals; and the Alps, with several scattered habitats. Despite its protected species status, no Action Plan has been put in place to protect the Eurasian lynx.
Concerned about the uncertain future of the lynx in France, FERUS plans to set up a large-scale public awareness program with the help of eco-volunteers to raise public awareness of the species: Parole de Lynx.
Through this program, the NGO will not only carry out an extensive public awareness campaign but will also undertake mediation with livestock farmers and the hunting community. In preparation for the launching of the full-scale program in 2020, FERUS did a 'test run' in the summer of 2019. The initiative received broad support and encouragement.
The project will involve a team of three trained volunteers and a FERUS staff member, who will travel around the target area in order to:
distribute information leaflets about the lynx to passers-by;
devise a questionnaire and talk to local residents and visitors at markets or local events to raise awareness and provide information as well as responding to their questions;
distribute information leaflets to shopkeepers, tourist offices, town halls, etc. as part of a large-scale information campaign aimed at citizens and elected officials;
organize lectures and events open to the general public.
Final report summary (December 2021):
This project was delayed because of the pandemic context.
In summer 2021, over a six week period , thirteen voluntaries, deployed in 5 departments (Doubs, Jura, Haut-Rhin, Vosges and some sites in Northern Ain) questioned, listened then informed and sensitized about the existence of the lynx and the threats the species is facing.
521 surveys were carried out on 20 village markets. The questionnaires focused on the perception of the lynx and its environment and were also an opportunity to discuss with the people questioned. 85% of the population surveyed said they were in favor of the lynx's presence, compared to only 2% who said they were opposed. Also, the team was present at events organized by partners of the NGO.
2,000 brochures and 23,000 flyers were distributed to people responding to the survey, but also to tourist offices, tourist structures and accommodation, shops, town halls, etc….
The launch of this initiative has been postponed to 2021 because of the Covid-19 pandemic.
This project is partly funded thanks to the sponsorship of a generous donor. If you also wish to support initiatives towards threatened animal species conservation, click here.