France
Safeguarding the future of the large heath butterfly: Adapting farming practices to protect the butterfly's natural habitat
---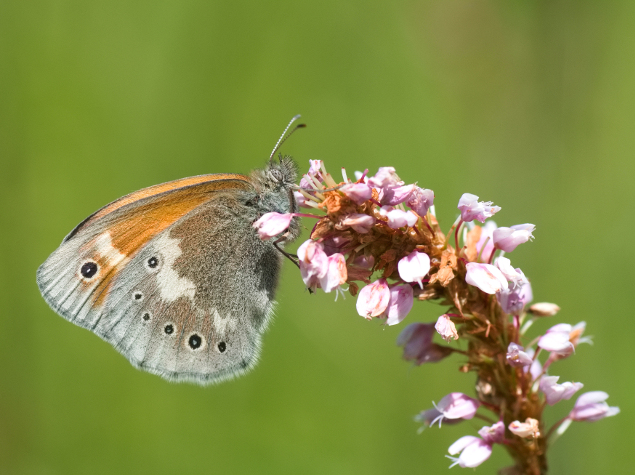 The large heath butterfly (Coenonympha tullia) is typically found in acidic wetlands (bogs, low marsh, peat bogs, wet moorlands, etc.). On the IUCN's Red List for France as 'critically endangered', the large heath butterfly is protected at national level and targeted in the National Plan of Action for Butterfly Protection. Almost extinct in France, the butterfly is currently found in only three regions, having disappeared from Picardy in the early 2000s. The Drugeon Valley in Franche-Comté is home to the main populations of the species. Other peripheral breeding grounds exist and are more vulnerable.
The current project aims to protect the areas under threat by means of adaptive management of the heath butterfly's habitats. The land in question needs to be maintained though adaptive, extensive farming practices, which is why the ultimate goal of the project is to inform and raise awareness among the farmers concerned. The area initially targeted is the second plateau of the Doubs, which is home to five heath butterfly breeding grounds.
This project, set up by the National Botanical Conservatory of Franche-Comté – Regional Invertebrate Observatory (CBNFC-ORI), has the following objectives:
to increase our understanding of the species by collecting data on its distribution, numbers and population trends;
to identify the stakeholders concerned (farmers, elected officials, managers of natural areas, etc.);
to inform and raise awareness among these stakeholders through training sessions and communication tools in order to ensure the conservation of the large heath butterfly in the target area;
to highlight the involvement of and work undertaken by the farming community through various events (agricultural shows, farm open days, etc.)
This project will also benefit the conservation of other remarkable species that live in the large heath butterfly's natural habitat, such as the violet copper butterfly (Lycaena helle) (protected in France and a vulnerable species in Franche-Comté) and Geyer's whorl snail (Vertigo geyeri), listed in Annex 2 of the EU Habitats and Species Directive. In addition, it will have a positive effect on varnished hook-moss (Hamatocaulis vernicosus) populations, protected in France and also listed in Annex 2 of the Habitats and Species Directive.
This project is partly funded thanks to the sponsorship of generous donors. If you also wish to support initiatives towards threatened animal species conservation, click here.