Laos
Livelihoods resilience in upland communities
---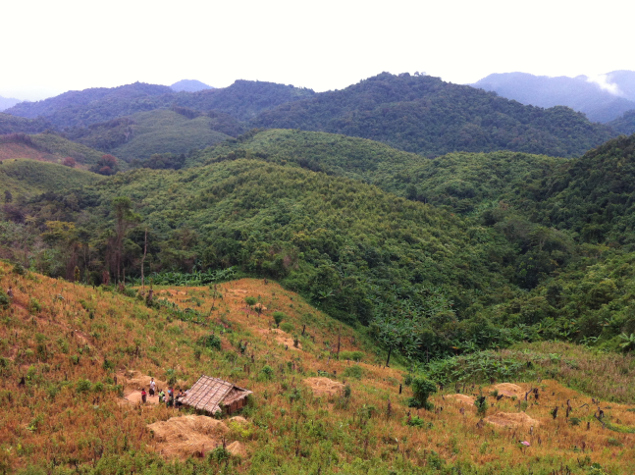 Oudomxay is, with a poverty rate of 46%, Lao PDR's (People's Democratic Republic) second poorest region. Communities in Beng and Pak Beng districts are amongst the most exposed to the risks of disasters and impacts of climate change. The most vulnerable people in these communities are poor or near-poor, landless or land-poor, entirely reliant on agriculture and non-timber forest products for their livelihoods.
The population faces various problems:
Extreme vulnerability of agriculture due to frequent low-intensity hazards, climate variability and climate change. This leads to significant crop losses for most households, reducing income and food security.
Loss and degradation of natural resources, affecting agriculture, reducing communities' coping capacity, and reducing economic opportunities from non-timber forest products.
Low capacity to adapt to climate change and increasing exposure to disasters. This is due to limited information and knowledge on climate change and disaster risk management amongst government agencies and communities. Vulnerable people, such as women and ethnic groups, are hardly involved in these politics.
To address this situation, Oxfam and its local partners aims to increase the livelihoods resilience of women and their families to hazards, climate variability, climate change and uncertainty. Various activities are planned:
Support vulnerable communities and district authorities to assess, prioritize and plan their responses to climate variability, climate change and hazards. 20 district officers from the 2 districts will be trained and mentored on Participatory Capacity and Vulnerability Assessment (PCVA). 30 Disaster Risk Reduction (DRR) plans will be developed in villages. 150 people will be appointed as member of village disaster, prevention and control committees (VDPCCs). 30 volunteers and facilitators will be trained on Information Education and Communication (IEC) to spread the message on climate change impact/adaption to all the project beneficiaries. Emergency preparedness and response planning will be supported at province and district levels, including simulations.
Support farmers to develop and adopt more agroecological approaches, spreading and reducing the risk of crop losses, climate variability and climate change. Livelihoods that are vulnerable to climate risks will be assessed and innovative, environmentally sustainable options will be identified. Through a Livelihoods Resilience Funds, these adaptive options will be implemented based on the suggestions given by technical experts promoting agroecological and agroforestry principles adapted to the context. The fund will also support the assessment and prioritization of market options for selling new productions. This increased resilience of production will allow households to be less affected by events and will lay the foundations for more viable long-term livelihoods and food security.
Seek to strengthen the sustainable use of natural resources fundamental to the livelihoods and wellbeing of the communities. 180 persons will be consulted during a participatory assessment on options for better on-farm soil, water management and sustainable NTFP harvesting. Water/soil/NTFP management trainings are planned in 10 villages. 96 provincials and district officials, leaders from district farmers interest groups, village heads and other villagers will attend a participatory land use and resource mapping. 75 people from province, districts and villages will be trained on Customary and legal land use rights. Community land allocation will be piloted with local authority in one community.
As an outcome of these local level learning events, Oxfam will lead on producing documentation on successful DRR adaptation practices and models according to communities/beneficiaries, lessons-learnt case studies and guidelines. Case studies will involve local government partners and vulnerable groups to capture their perspectives and alternative agreocological practices, and give them an opportunity to voice their opinions. Project learning will be shared with National and Provincial authorities, with development actors in Lao PDR and abroad.
Final report summary (April 2020):
At the end of the project, 30 target villages had technically competent structures able to develop and implement participatory plans to reduce their vulnerability to hazards, climate variability and climate change and 25 gender-sensitive Disaster Risk Reduction (DRR) Plans were developed in line with the government guidelines. Following a livelihood assessment, 266 households (approximately 1,600 persons) from the 2 districts received livelihood material and training from the resilience livelihood fund. The increased income from livelihood activities (mainly goat raising) will only be assessed at longer-term as it is based on a revolving system and beneficiaries have not yet sold their livelihood materials as part of this system: however goat numbers have expanded rapidly for about 80% of farmers who received goats in 2017 and 2018 and Khmu women reported that they helped their husbands to raise the goats and were able to jointly decide more often on how they were sold and how the income was used.
Regarding the sustainable use of natural resources, 722 households participated in awareness raising trainings on Non Timber Forest Products (NTFP). 2 land use plans of Beng and Pakbeng districts were also completed and are now included in the local socio-economic development plan. Customary and statutory land rights were disseminated through 4 meetings attended by 356 households who then managed to receive their land certificates, issued by local authorities.
Lessons learnt and good practices of this project were documented through 6 digital stories and 3 videos disseminated on Oxfam social networks. Learning materials were also shared with the National DRR Coordination Platform, the Disaster Risk Management Working Group (DRMWG) and other key national development actors.