22 June 2016
Testimony of Teresa Chimarro, beneficiary of the AVSF project in Ecuador
---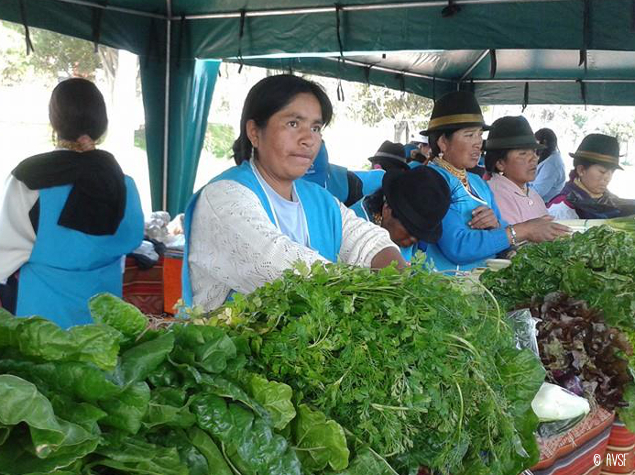 Teresa Chimarro, 38 years old, has 5 children aged between 3 and 16. A member of the Allpamanta agroecological producers network, she sells her produce at the Carcelén market in Quito and through distribution of food baskets.
Is this a good place to live? 
I live in the village of Pitana Bajo, a small community where we all know each other. I'm part of an organization that 16 women from the village belong to. We're currently farming without chemicals to produce food both for our own use and to sell at Carcelén market and through food basket distribution. We have serious soil problems, but we can now say that it's possible to produce enough to live on.
Why are you taking part in this project?
I've taken part in several projects that aimed to help us with irrigation and train us in food production. But none of them helped us solve the problem of marketing our produce. Thanks to this project, for the last year we've finally had a place to sell what we grow, and that motivates us to diversify our farming and carry on working.
What positive (or negative) impacts have you noticed so far?
The fact that we sell at the markets and through the basket system means that we have to grow a wider range of produce, which helps improve our diet. At the markets, we can also barter our produce for things we don't grow ourselves, like fruit, spring onions, fava beans and so on. By selling my produce, I can help my family. With the food baskets, I make between 35 and 60 US dollars a month, depending on the quantity of produce I have available, and at the Carcelén market, I make between 60 and 80 US dollars a week. When I have guinea pigs to sell as well, I can earn up to 100 US dollars a week. In round figures, I'd say my sales income comes to around 300 US dollars a month.
Being part of the group not only enables me to sell my produce and have an income, but has also taught me a great deal.
How do you see the years ahead?
In the future, I see myself with a farm full of different produce, managing to reduce seed loss and making sure that we don't lose the sales outlets we have at present.
Check out the AVSF project in Ecuador here.