Cambodia
Improved agro-climate information for women and ethnic minority farmers
---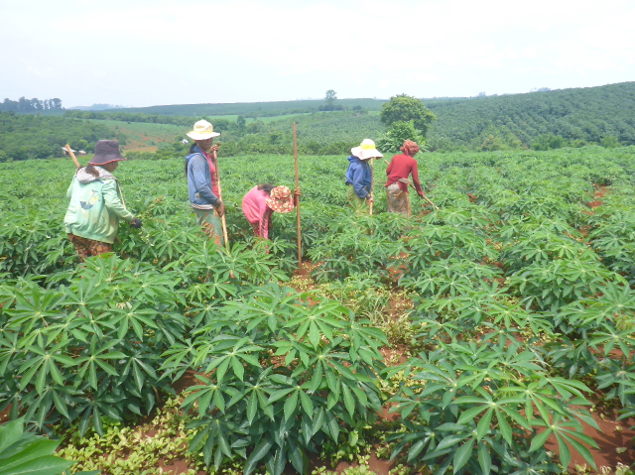 The Ratanak Kiri province is one of the least developed provinces in Cambodia: literacy rates are far below the national average. People suffer from severe malnutrition, and health indicators are the worst in the country (more than half of the children under five are stunted).
Main employment is in agriculture, and subsistence farmers are increasingly exposed and have low adaptive capacity to climate-related disasters causing crop loss and further aggravate food security. With the weather becoming more and more erratic, there is a strong need for farmers to be able to access and respond to seasonal forecast information, and get timely and quality farming advice to optimize their production. Even if meteorological authorities in Cambodia produce weather forecasts, they rarely reach the remote populations and are not useful for farmers as they cover very large areas, and are not followed up with advice on the implications for agriculture. Furthermore, information is often not accurate, timely or understandable. There are also challenges as regards the attitude of government staff and service providers towards poor women and ethnic minority farmers and their specific needs.
The aim of this project is to have an increased resilience of women and ethnic minority farmers to climate change and an increased food security through sustainable agriculture production in the Ratanak Kiri Province.
The project will ensure that women and ethnic minority farmers get access to timely and accurate seasonal forecasts and farming advices, and have the capacity to act on the information to reduce crop loss and increase food security from sustainable agriculture production. This will contribute to increase resilience among marginalized small-scale farmers in the province. The method is to support farmer learning networks at the village level and to build capacity of meteorological and agriculture extension service providers.
To reach all these objectives, the project aims:
To establish Farmer Learning Networks: 75% of the direct beneficiaries will be organized for community engagement and knowledge transfer to the village level. These networks will give farmers access to knowledge and techniques on sustainable and climate smart activities such as catch cropping, site-specific nutrient management, residue management, minimum tillage, new types of crop and introduce the use of organic fertilizers. They will get advice from local agricultural extension workers and help in planning sustainable agricultural activities and disaster prevention in the village. This will reduce loss and increase farm output and food security of the families. Finally focus will be involving and coaching women and encouraging them to take up leadership positions and key roles in the networks.
To develop agro-climate information and seasonal advisories for farmers. Low cost weather monitoring kits and rain gauges will be installed in villages. Farmers will be trained on how to measure and report weather information. The collected information will improve forecast and bring knowledge on soil humidity. The project team will ensure that indigenous knowledge will be used by meteorological authorities to improve agro-climate information based on farmer's needs. It will work with the Ministry of Water Resource and Meteorology and the Provincial Department to produce seasonal weather forecast which will be downscaled to cover local agro-climate zones. Participatory Scenario Planning will be introduced as a methodology enabling ommunities to explore potential future changes, their associated impacts and develop locally relevant action plans.
To build capacity of local authorities and learning: Indigenous facilitators will receive trainings on technical topics, facilitation and community engagement skills, including gender, to ensure functional Farmer Learning Networks. Training methods will be participatory, action oriented and emphasize social experimental learning. Government staff will be equipped to better understand and respond to the differential needs of women, men and ethnic minorities. This is expected to lead to more positive attitudes towards women ethnic minority farmers. This is a learning project and it is therefore important to document the methods and effects, share lessons with the view to scaling up the model to other provinces in Cambodia.
The final aim of this project is to give access to agro-climate information based on seasonal weather forecasts with farming guides to 2,172 farmers. 80% of them will experience a more stable production from their fields and weather-related losses. Finally, women will experience greater influence on farming decisions because of community involvement and better access to information.
Final report summary:
2 172 farmers got organized in Farmer Learning Networks (FLN) and are represented by 2 farmers per village (one woman, one man) who are meeting monthly at the commune level. 80% of FLN members are receiving information on forecasts and related advisories from their representatives and have changed their farming management practices.
27 trainings of trainers on facilitation skills and botanical pesticide were conducted with 41 participants including 21 women. Also, 6 Participatory Scenario Planning workshops were completed on cassava and soybean farming. Several agroecological production techniques have also been introduced (like ecological chicken raising, system of rice intensification, cassava and soybean farming, soil improvement and botanical pesticides). This led to an increase of 51% for rice yield, 39% for cassava and 13% for soybean compared to the beginning of the project.
For farmers to have access to agro-climate information, based on seasonal locally relevant weather forecasts and farming advices, 15 rain gauges and 3 automatic weather stations were installed and 6 local seasonal forecasts were produced.
7 training sessions on gender analysis and family decision making on buying agriculture inputs were conducted to increase women's influence on farming decisions. 73% of women received weather related and agriculture trainings from FLNs and 61% declared making joint farming decisions by the end of the project.
There was also an increased awareness among related government departments at national and provincial level about the importance of agro-climate information to improve farming production and exchanges of experiences were organized with other communes (non-project sites).
Check out the testimony of Vicheka, farmer within the project: