Peru
Support for collective organic certification projects, product development and internal capacity building of the Frutos del Ande cooperative
---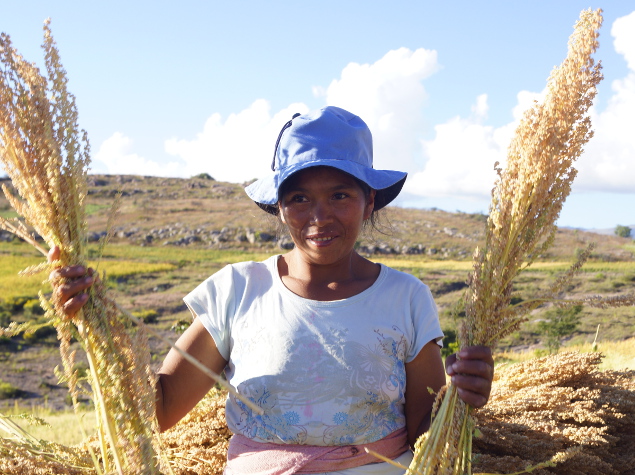 In Peru, family farming is a key occupation for much of the population (the country has 2.3 million farmers). Most of these families live in rural areas marked by poverty and inequality. The attention given by the State to the family farming sector remains minimal, or in some areas non-existent. In the Ayacucho region, where the project is based, not only do producers have market access problems but they also face production and environmental conservation issues.
It was in this context that Autre Terre supported the establishment of the 'Fruits of the Andes' cooperative. To face the challenges mentioned above, capacity building and empowerment of this first agricultural cooperative in the region are needed. To this end, the production chains, processing and marketing of certified organic products must be developed. Various initiatives have been planned to achieve the project goals:
The producers' production and management capacities will be strengthened in the following ways: introduction of a composting system to produce organic fertilizer; development of new planting areas; establishment of a seed production center and seven irrigation systems. The producer organizations' management skills will thereby be enhanced.
The producers' and producer organizations' processing and marketing capacities will be strengthened. A network will be set up for the collection of avocados, quinoa and tara (tree whose pods are used in leather tanning and seeds in the food industry). An avocado packaging center and oil preparation workshop will also be built. Product certification will be introduced. A loan will be provided to serve as working capital for the cooperative and to develop product marketing. Finally, markets that offer greater added value will be pursued.
Local authorities and civil society will be made aware of the issues and mobilized to support agroecology. Strategic alliances with local authorities and private stakeholders in the sector will be strengthened. Advocacy initiatives will be conducted at local/regional government and community level. A regional fair will also be set up.
The producer organizations and cooperative will have their internal organization strengthened and will apply the principles of the social and solidarity economy. An administrative department will be set up, and the project management and accounting skills of the cooperative and its members will be improved. Management and governance bodies will also be strengthened. A mechanism will be put in place for meetings to maximize synergy and exchange of views on how to monitor and capitalize on innovation. Efforts will be made towards legal recognition of the cooperative. The ultimate goal is for the cooperative to be not only financially but also organizationally independent.
Furthermore, climate change mitigation and adaptation will be promoted through agroecology, sound water management and reforestation plantations. Soil pollution caused by use of chemical inputs will also be reduced thanks to an increase in the number of certified organic farmers who will ensure that crop barriers are used to reduce the potential risk of contamination from neighboring non-organic plots.