Peru
Strengthening of Andean farmer communities and their representative bodies in the Anta province (Cusco) through sustainable and innovative agricultural practices
---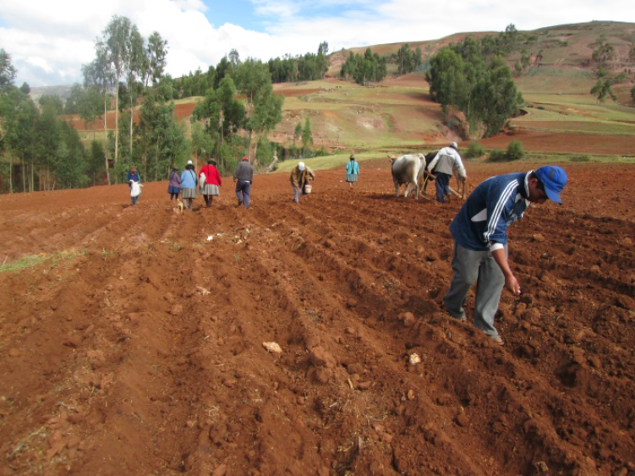 Context:
In the Anta province (Peru), agriculture is the major source of income for the inhabitants. Crops are mainly maize, oats, potatoes and quinoa developed on a small scale. There is almost no irrigation in the area and agriculture suffers from climate changes. Other problems include: low productivity, high costs of production, small volumes traded (usually from individuals), heterogeneity of the products, technological deficiencies in the management of post-harvest products, lack of information on markets and prices, weak organization of farmers and no added value in products.
Population migrates due to lack of employment opportunities, low profitability of the agricultural sector, the almost no development in the agro-industrial sector and for studies. Usually, men leave the house and women assume farm work in addition to domestic work. The average household income is less than 100 € per month and family. Nearly half of the population suffers from chronic malnutrition and children mostly suffer from respiratory system diseases and parasitic infection, skin and digestive system illness.
Objective:
This project will be implemented by ICU (Istituto per la Cooperazione Universitaria onlus). It aims to improve socio economic conditions of the farmers in the Anta province through the introduction of innovative and environmentally sustainable practices, local authorities' capacity building and involvement, and new paths of commercialization.
Activities:
A first component of the project will aim to improve the adaptation of local farmers to the climate change phenomena through the implementation of innovations (including solid rain), the diversification of production (quinoa, tarwi) and promotion of organic certification.
Entrepreneurial approach will be fostered in local associations and cooperatives through supporting the creation of a network with other successful businesses in the country. Negotiation skills will be improved and direct contact with agro-export companies fostered.
The participation of women will be promoted in all the activities. Building of greenhouses for vegetable production managed by women will be supported in order to give them an economic independence and improve food security & availability in the area. Moreover, all the children less than 5 years old and pregnant or breastfeeding mothers will pass a nutritional evaluation. 3 training sessions on balanced nutrition will be provided in each district. Knowledge of women on reproductive health topics will be improved thanks to 5 seminars held by a doctor and a social worker.
Finally, services given by public institutions to farmers in the area will be improved thanks to better agro-climate information (5 climate stations will be bought and technical assistance will be given to public officers) and its free diffusion in the territory via Internet.