Myanmar
Identifying and sharing innovative technologies for recycling organic waste in Myanmar
---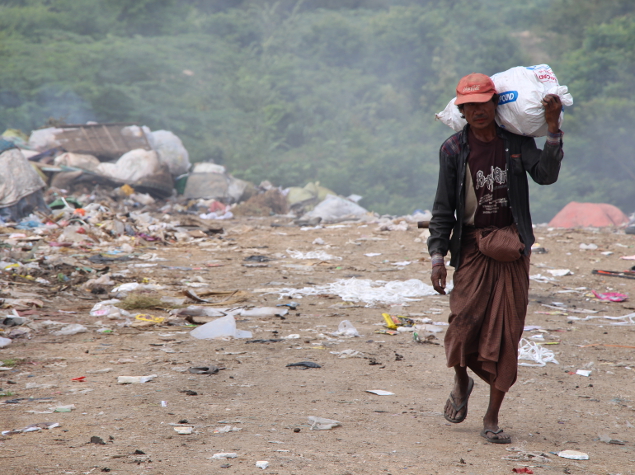 This project will be run by GRET in the town of Magway in central Myanmar. Waste management is currently limited to partial collection of waste for disposal on an uncontrolled landfill site made available to the Township Development Committee. This site has no basic infrastructure (access road, fence, ground sealing, leachate recovery, weighbridge, etc.), no physical boundaries and no separate storage facilities for special waste (e.g. medical waste), which is stored directly on the ground. The current system represents a high risk to the environment (particularly to water resources) and to workers' health. No organic recycling has been carried out to date despite the fact that fermentable waste makes up 70% to 80% of the total waste produced in the city's central areas and markets. Finally, the employees concerned, who have received little or no training, have very limited resources for providing the town's inhabitants with quality services.
As far as household waste collection is concerned, the system only works adequately along the town's main roads where, on a voluntary drop-off basis, residents bring their waste when a sound signal indicates the arrival of the garbage truck. Access to neighborhoods is made difficult by the absence or poor state of street repairs, leading to irregular or, in some areas, non-existent waste collection. This lack of services leads to illegal dumping in close proximity to residential areas.
This project aims to ensure better collection, treatment and recycling of waste from the town center, using sustainable technologies. This will enable local residents' living conditions to be improved and environmental impact to be minimized.
The project will be developed in two separate areas: the landfill site itself and a collection area in the town center, covering over 13 000 inhabitants. A composting facility will be established near the landfill site so that part of the organic waste can be recycled and air, soil and water pollution reduced.
In parallel, a waste collection service will be set up targeting residents with little access to existing schemes. Shopkeepers/traders and residents will be made aware of the importance of sorting and composting. Composting containers will be installed in the markets. Lastly, in order to foster residents' engagement, a 'payment for compost' scheme will be trialed (with the compost being used in green spaces or sold to farmers).
It is planned to extend the project to the town as a whole (75,000 habitants) and to disseminate the innovations launched nationwide. As well as the sharing of experiences, advocacy work will be undertaken with the public authorities so as to encourage the implementation of sustainable approaches to waste management in the country's towns.
A video introducting the project: