Ecuador
AlliAlpa project ('fertile land' in Quichua): strengthening agroecological practices and developing short food supply chains
---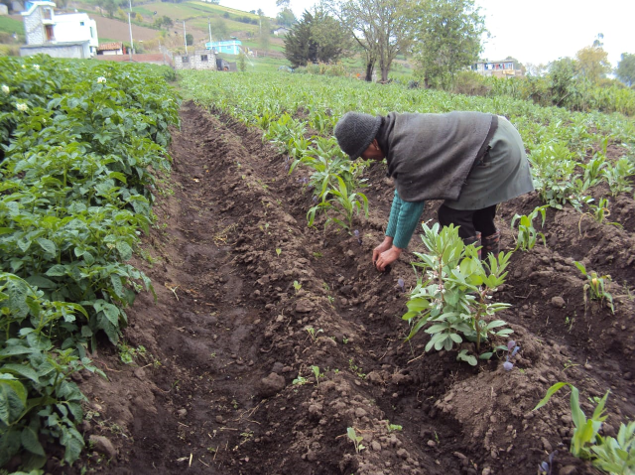 Context:
In a trading environment that is particularly unfavorable to small producers and against a backdrop of agroecosystem degradation, the past few years have seen an increasing number of agroecology and short food supply chain initiatives in Ecuador. The demand often comes from grassroots farmers' organizations, supported by national and international NGOs. However, this movement now needs to move up to a more professional and scientific level so that it can play a role in shaping relevant public policies. The authorities have also slowly become interested in new farming methods but their focus is more on a Green Revolution.
The NGO CESA (Ecuadorian Agricultural Services Center), the project's local partner, has been working with the country's small producers for over 50 years. Its teams are aware of the limitations and harmful effects of conventional farming, and of the need for a new agricultural model. For this reason, it has decided on a shift to agroecology.
Objectives:
AVSF aims to improve the living conditions of the farming families in Pillaro canton by developing agroecology and creating equitable, solidarity-based and environmentally friendly distribution channels. Capacity building will be undertaken to support the transition to agroecology and to add value to the products.
This project will include an awareness-raising component on sexual and reproductive health.
The NGO CESA will receive support for its contribution to developing agroecology and short food supply chains in Ecuador. Support for advanced training, research and sustainable policies in these fields will also be provided.
Planned activities:
By the end of the project, the supply of high-quality agroecological products will have been improved and extended by at least 20%. These products will be processed and traded by women via short supply chains. A total of 320 smallholders will follow a training program and exchange of traditional farming knowledge and skills. The role of women will be strengthened, as will processing capacity, added value and low-impact environmental practices. Two new collective short supply chain trading initiatives will be set up as well as an economic impact reporting system on the families selling their produce through these supply chains.
Thirty women leaders will receive training on health and on sexual and reproductive rights.
Ten technicians from the NGO CESA will be trained to support the smallholders' agroecological practices and short food supply chain distribution.
The NGO's agricultural extension capacity will be strengthened, as will support tools for agroecology and for developing local markets. Three guidance manuals will be produced and circulated in order to capitalize on the project.
Four universities, in conjunction with two local governments, will benefit from capacity building for training, research and public policy development to support agroecology and short food supply chains.
Final summary report (October 2021):
The project, which was of relatively short duration, was obviously affected by the pandemic, which limited producers' and consumers' participation in the marketing initiatives. Despite this, five markets were opened and the collection of products continued, adapting to the new operational dynamics. A total of 223 producers (78% women) were also trained in agroecology via 191 workshops, and by the end of the project 124 farms (ranging from 200 m² to 1600 m²) were using an agroecological production system – a total of 23 ha.
In contrast, the project component aimed at strengthening the development of agroecology and short food supply chains by the NGO CESA met all its objectives. In fact, the pandemic highlighted the need to develop open access organic seed production and relevant training in Ecuador. CESA has now established itself as a pioneer on this issue, which will be developed further after the AlliAlpa project. As for the Masters program, its implementation has suffered from administrative delays as well as from the pandemic. However, thanks to formal approval from the Higher Education Council and the tripartite UCE-CESA-AVSF framework agreement, the program will go ahead, albeit after project completion (in theory, for the 2022 academic year). Seven research studies are nonetheless already underway.
The relationships forged with municipalities to promote agroecology and family farming will enable other producers to benefit from the work already undertaken. CESA's endeavors to institutionalize and formalize the shift to agroecology will also enable the NGO to convey its message at the institutional and academic level with the aim of encouraging broader-scale discussion and initiatives. The final goal is to influence a shift in national public policies towards the promotion of agroecology.
In the field, producers will continue to be trained at the SEICAS centers in El Quinche and Daule, where training, experiments and research on agroecology are conducted. The CESA technicians will also continue to run agroecology training sessions for the general public.