Peru
Building capacity for near real-time deforestation monitoring and improving forestry governance in the Peruvian Amazon
---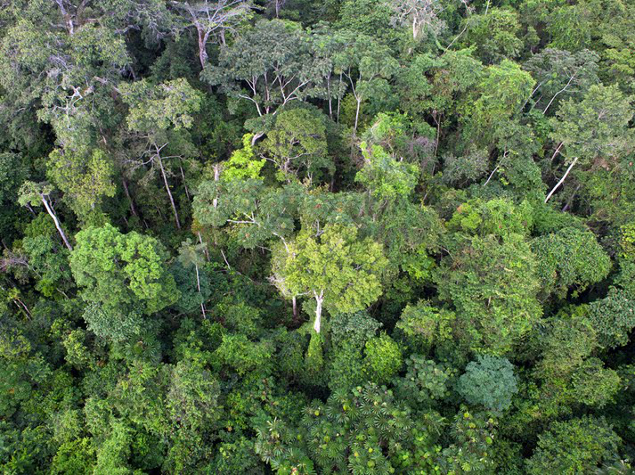 The Peruvian Amazon harbours high levels of biodiversity and large extensions of continuous and relatively intact tropical forests. Recently, the Peruvian government has committed to protect its forests by signing the Paris Agreement and the Joint Declaration of Intent with Norway and Germany that aim to reduce Greenhouse gas emissions by 30% and deforestation by 50%, respectively.
However, Peruvian forests face an increasing array of threats that this project aims to reduce. In the Madre de Dios region (MDD) of the Peruvian Amazon, it will focus on four key issues that hinder conservation and management:
Timely deforestation information: near real-time monitoring is key to inform authorities about forest degradation.
Interinstitutional coordination and communication about deforestation: multiple government agencies deal with forest affairs but have not established an effective channel to regularly share information and coordinate action to tackle deforestation events. Environmental governance is also decentralized and regional governments lack of capacity to play this role.
Field validation of satellite-based deforestation alerts: accuracy, cloud cover and infrequent repeat coverage require field validation but the inaccessibility of vast areas in the Amazon complicates this crucial task. The use of drones will solve this problem.
Local forest users lack capacity and resources for forest monitoring and protection.
This project aims to offer a near real time monitoring system, fully operational at regional level and to allow for the effective detection of and rapid response to deforestation and illegal activities.
To do so, Amazon Conservation will give concessionaires capacity and authority to protect their concessions through the use of cutting-edge technology, field validation of deforestation alerts, generation of crime evidence and reporting of illegal activities to FEMA-MDD. A protocol to monitor deforestation will be designed. MDD concessionaires will be trained to use GLAD (Global Land Analysis and Discovery) alert, smartphones and drones to identify and verify deforestation events within concessions. They will be also trained on rights and responsibilities for forest management and on how to document and report on illicit deforestation identified within concessions. Concessionaires will be also assisted to file legal complaints and provide regional environmental authorities with necessary documentation to penalize perpetrators and follow up on legal complaints. MDD associations of concessionaires will be strengthened to improve internal processes (legal and administrative) for enhanced management and control of concessions.
A protocol with FEMA-MDD will be designed for implementing a deforestation monitoring system. Technical support will be provided as well.
Regional and national government agencies, concessionaires and civil society will access and exchange more information on deforestation and illegal activities in the concessions of MDD, and coordinate actions to address forest threats in these areas. Relevant information and analysis on deforestation will be published on the MAAP (Monitoring of the Andean Amazon Program) portal. A National System for Control and Surveillance of Forests and Wildlife will be developed and activated. Finally, a deforestation monitoring protocol will be designed, and an automated system will be established within the national system to enable effective deforestation response and control.
Check out the video testimony of Flor Rumayna Idahua, beneficiary of the project.
Extract from the final report:
During the project, a monitoring protocol was designed and fully implemented: it included, among others, the use of technologies for field surveillance in 9 associations of forest and Brazil nut concessionaires. 100 concessionaires were trained to use drones, early warning alerts and smartphones to monitor and do surveillance in their concessions. During the project lifecycle, 19 deforestation events were identified in 10 forest concessions and Amazon Conservation filed 13 complaints to FEMA-MDD.
2 staff members from FEMA-MDD were also trained to use technologies for deforestation monitoring. The FEMA at national level also formally adopted this protocol for monitoring activities. At the end of the project, there is thus an increased protection and availability of information on deforestation within forest and Brazil nut concessions in MDD through quarterly reports published on the MAAP portal. Illegal activities and deforestation have continued but at a slower pace (248 ha were deforested in the Manu and Tambopata concessions in 2017 before the project against 125 ha in 2020 at project end).
30 reports with relevant information and analysis on deforestation were published on the MAAP portal during the project lifecycle, including 9 covering deforestation events in MDD. Peru's National Forest Service (SERFOR) spearheaded the creation of the National System for Control and Monitoring of Forests and Wildlife (SNCVFFS), a platform that coordinates action and leverages resources from different government institutions in order to respond to major deforestation cases. The project supported 3 SNCVFFS meetings to update and activate its operating system (including monitoring and response procedures to deforestation) and 2 interventions.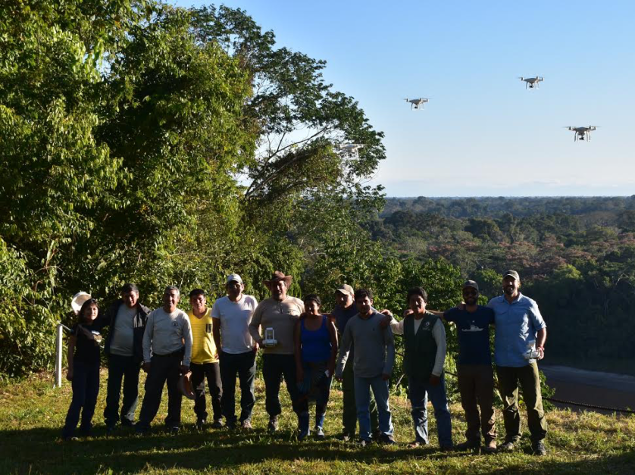 Participants from Peru and Bolivia are trained on how to use drones to monitor deforestation. © Amazon Conservation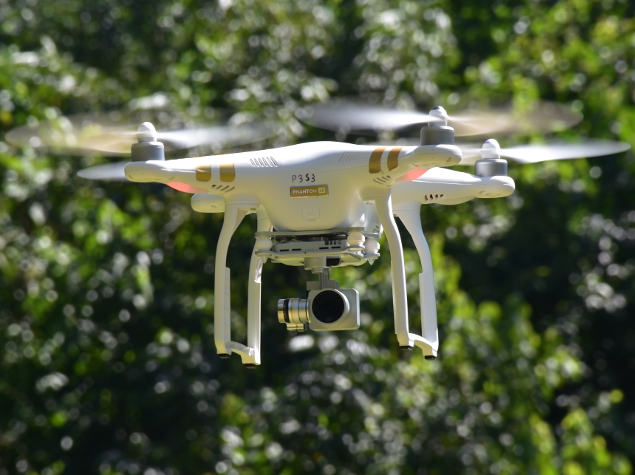 Flying drone © Amazon Conservation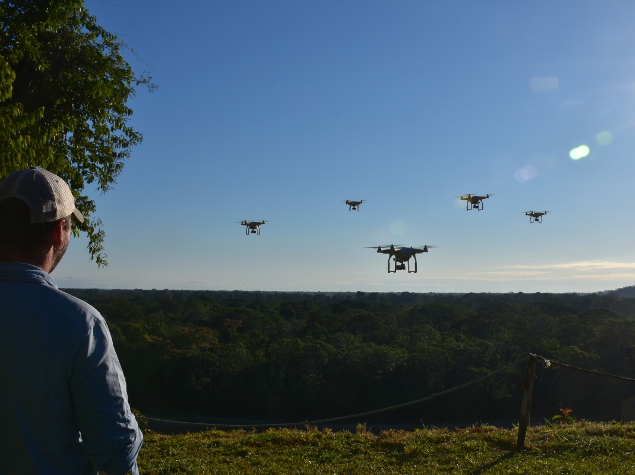 Drones Courses © Amazon Conservation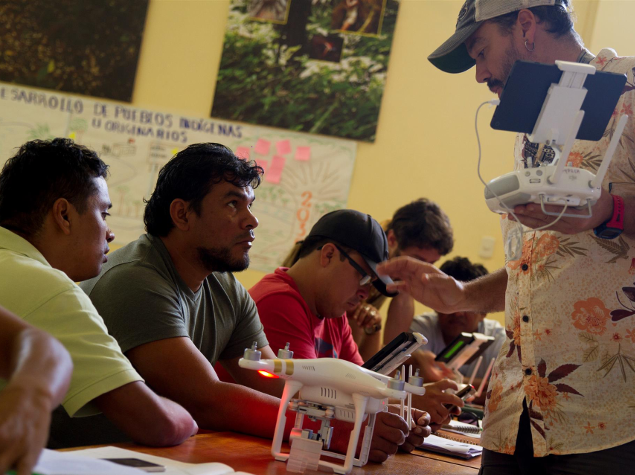 Theoretical workshop on the use of drones for deforestation detection © Amazon Conservation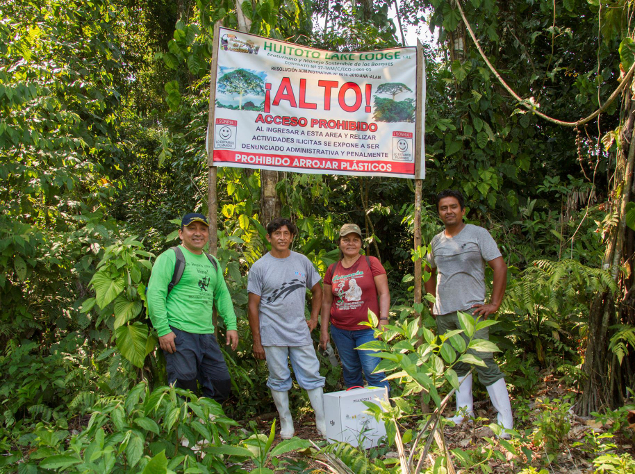 Huitoto Concession - Installation of signs © David Mendez/Amazon Conservation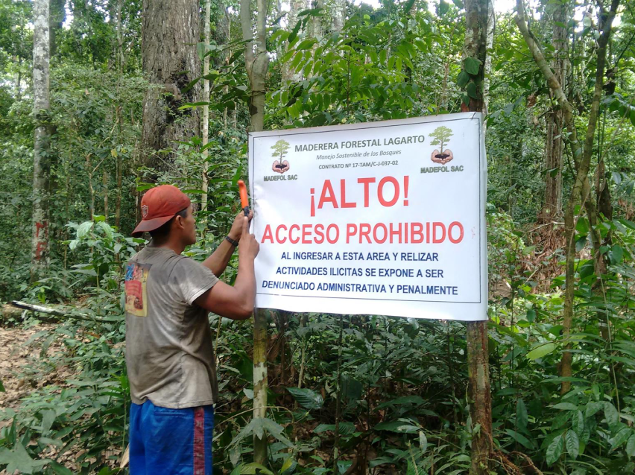 A concessionaire places a sign to demarcate the boundaries of his forest © Amazon Conservation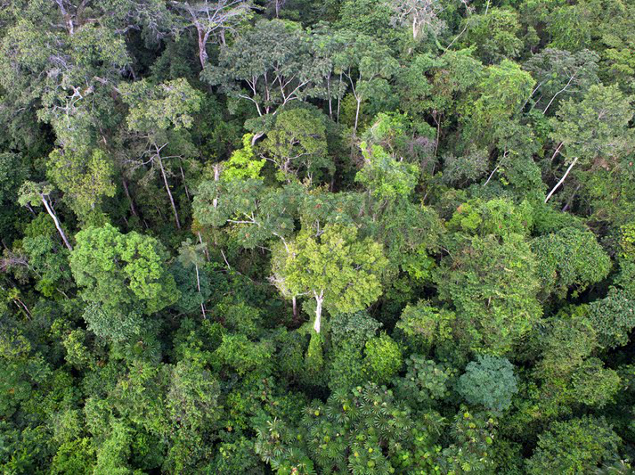 Canopy © Gabby Salazar / Amazon Conservation