Colombia
Ethno-ecological program for the recovery of the Carranchina turtle
---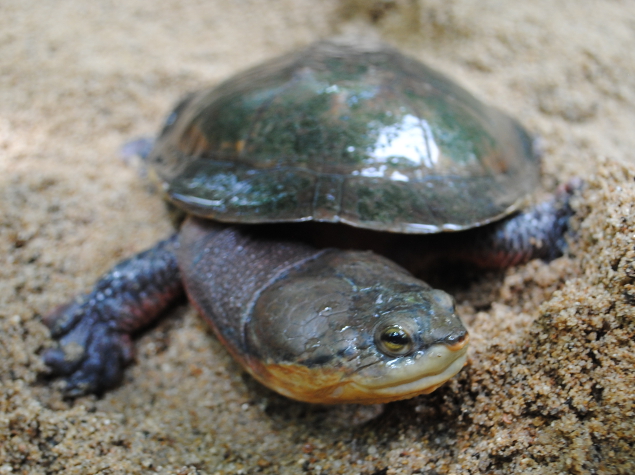 The Carranchina Turtle (Mesoclemmys Dahli) is endemic to Colombia and its population covers only an area of 76 km2 comprised between the dry tropical forests of Sucre and Córdoba provinces, in the Zenú indigenous territory. It has been listed as Critically Endangered by the IUCN and we estimate that only 250 mature individuals of this species and no more than 1,000 in total, remain in the wild.
The aim of this program, implemented by Fudacion Fuverde, is to seek recovery and sustainable conservation of the Carranchina turtle populations in the Zenú indigenous territory. The main threats on the species are the lack of environmental education, incidental fishing, traffic and destruction of its habitat for agriculture. Also, populations are jeopardized by the fragmentation in small groups, the diminution of genetic diversity, the inbreeding and the lack of interest by the population.
Through a conservation program, the number of carranch turtles will be incremented by 500 individuals. To do so, a hatchery will be constructed. At least 20 carranch turtle specimens will be monitored via monitoring with satellite telemetry technique. A database will be developed, and preliminary results will be sent to IUCN.
With fishermen, 300 spinel hooks will be replaced with circular hooks and they will be trained in sustainable fishing techniques. 10 days of plastic waste cleaning in the zone will be held and 25 garbage collectors will be installed. 2,000 trees resistant to dry climate will be planted near wetlands. 300 young indigenous leaders (half women) will be trained through an environmental ethno-educational program. An environmental corporation led by the community to preserve the species will be created.
The Zenú indigenous community has political-administrative autonomy on its territory, granted by the interior ministry of Colombia. Fudacion Fuverde will take advantage of this to have 32 km2 of the target zone declared as a protected natural area by the community.