Ecuador
Integrated Water Resources Management and good water governance
in two cantons of the Southern Sierra, Ecuador
---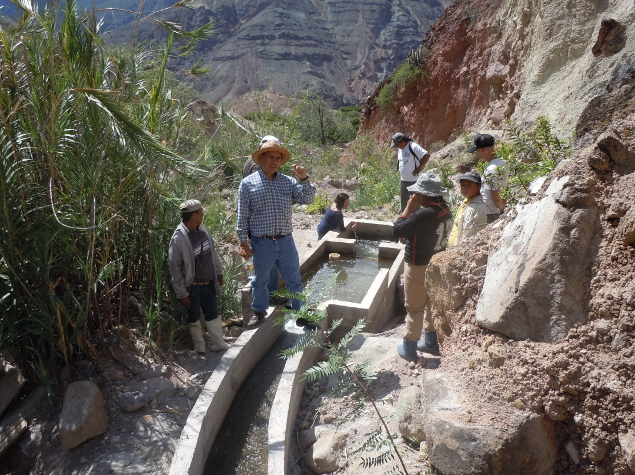 This project aims to improve the living conditions of particularly disadvantaged populations through participatory, equitable and sustainable management of water resources. In the context of an Integrated Water Resources Management (IWRM) approach, the project will bring environmental, social and economic benefits as well as contributing to disaster risk reduction.
Work began on the project in Oña canton in 2003 and in Saraguro canton in 2006. The 2003-2007 period can be seen as the initial phase with a number of strategic investments and the beginnings of stakeholder capacity building. This was followed by a development phase from 2008 to 2014. The current phase, which will continue until 2016, is regarded as the consolidation/exit phase.
The project focuses on improving access to water for drinking, sanitation and irrigation in the cantons of Oña and Saraguro. The main focus will be on helping strengthen local project management by local stakeholders and on developing river basin management as part of an Integrated Water Resources Management framework.
In order to achieve these goals, our partner has set the following targets:
Increased access coverage to drinking water and sanitation facilities
To achieve this, the NGO is providing support to the local authorities in their operational program planning for the region. It carries out diagnostic studies in the target villages and applies 'social engineering' methodology to support the village and its water committee throughout the process of setting up infrastructure, ensuring a good blend of both technical and social aspects. The support provided ranges from initial diagnostic and technical studies to preparation for future management.
A larger number of people made aware of the importance of hygiene and of the relationship between water, health and the environment
PROTOS and CEDIR are conducting training workshops on setting up infrastructure; producing and distributing educational outreach materials on how the infrastructure functions; coordinating initiatives with health centers and village health promoters; and implementing the 'Green Schools' program in conjunction with the Intercultural Bilingual Education Department.
More effective and sustainable drinking water management structures at local and canton level
PROTOS and its local partner are training water committees in the day-to-day management of their systems. Particular attention is paid to ensuring women's participation in decision-making bodies. They also plan to assist the local authorities in developing support services for systems in rural areas by offering technical, organizational and training support.
Implementation of sustainable water resources management through source water protection and basin management (in partnership with the Public Consortium of the Jubones River Basin)
The project aims to ensure source water protection, to conduct diagnostic studies, to establish micro-basin management plans, and to implement these plans in partnership with the Public Consortium of the Jubones River Basin. Experience sharing and dissemination activities are also planned.
Increased irrigation efficiency in the context of multi-stakeholder platforms
Rehabilitation of irrigated areas will be carried out via multi-stakeholder platforms (provincial and local authorities, irrigators' associations, private sector). PROTOS-CEDIR will provide support on suitable irrigation methods, water tower construction with community participation, training and awareness-raising on the social management of water, and greater ownership of the project by the various stakeholders.