Senegal
Program for the conservation of the African spurred tortoise and its habitat in the Ferlo biosphere reserve
---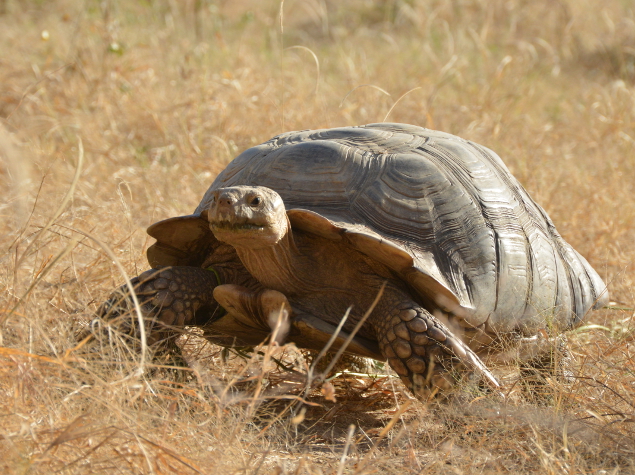 This program, run by Soptom in Senegal, started in 2000, focusing first on the urgent need to protect the last remaining populations of the African spurred tortoise in the Ferlo biosphere reserve. In parallel, initiatives were launched to raise awareness among children, train teachers and develop income-generating micro-projects. Fondation Ensemble had already partially funded this program from June 2011 to December 2012.
The long-term objectives of the new phrase of the program were:
to support the inhabitants of the region through poverty alleviation initiatives.
to raise community awareness of the need to conserve biodiversity.
to sustain the population of African spurred tortoises. Since 2006, 36 individuals have been reintroduced, the objective being, in accordance with the agreement signed, to monitor the tortoise population.
To achieve these objectives, various initiatives have been carried out:
The tortoises that were reintroduced were monitored via radio tracking and then by a human tracker. Young tortoise tracks and eggs have been observed, demonstrating the success of this program component.
Various community awareness raising activities have been conducted:

School outings to an enclosed area in Katané (inside the Ferlo biosphere reserve), where the tortoises can thrive, safe from the pressures of deforestation and overgrazing. This enclosure is managed by the National Parks Department.
Drama and general knowledge competitions on the theme of environmental protection.
Publication of a newsletter, 'La lettre de la tortue', produced by schoolchildren and broadcast on community radio.
Raising awareness among schoolchildren through a game called 'le jeu de la tortue' (inspired by the French game 'le jeu de l'oie', a kind of snakes and ladders).
Teacher training through an environmental education program.

Market gardening projects have been undertaken in various communities near the intervention area. The first to benefit from the program were two women's groups in Ranérou (GPF Baamtaré and GIE Kaoral). The Kaoral group is now continuing production independently while the Baamtaré group is applying for further funding for a water storage tank (see photo). Other communities have sought the NGO's support for initiatives such as the setting up of a rainwater storage system in Loumbi and a school market garden in Loumbol. All these activities will ensure the long-term sustainability of the program and help the local community make the connection between the NGO and protection of the tortoise.
A modern bee-keeping project has also been launched, as harvesting of wild honey is no longer permitted in the reserve. A total of 35 beneficiaries have made a personal and financial commitment to the project. Now that the equipment has been bought, the beneficiaries must be trained and the beehives installed. This project will also foster the regeneration of melliferous species and the maintenance of plant cover, thus protecting the tortoises' habitat.
Finally, a traditional hut has been built to cater for tourists.