Laos
Forestry and Agroecology in the mountains of northern Laos
---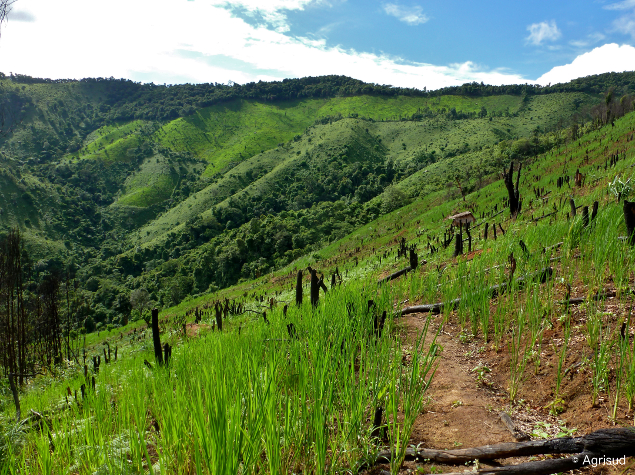 This project follows on from initiatives in the region by Agrisud and its local partners. From 2005 to 2008, Agrisud ran a peri-urban agriculture project to support local producers in supplying markets and hotels in the town of Luang Prabang. From 2009 to 2012, it conducted a project entitled 'Food security for women and rural poor in Viengkham District', covering 25 villages.
Viengkham is one of the country's 47 priority districts for development. Over half of its villages are classified as particularly vulnerable, with a per capita income of US$ 270 per annum. Local communities depend on natural forests, under threat from deforestation and over-exploitation, not only as a source of food but also for their livelihood. A significant proportion of household income comes from cardamom and puak muak (liana whose bark, once dried, is used in production of incense, mosquito repellents and glue), and unless the quantities harvested and the methods used are controlled, these plants are likely to disappear.
Of the villages in the district, 40% still lack access to a drinking water supply system that meets their needs. In many villages, springs have dried up or are experiencing diminished flow, with increased turbidity due to lack of natural water filtration.
As a result of these degradations of their environment, the local populations' way of life is becoming vulnerable from a health and nutrition perspective.
The project's main goal is to fight against poverty and contribute to the social and economic development of rural populations by developing agricultural models suited to local circumstances in the mountainous districts of northern Laos while helping to rehabilitate, safeguard and enhance natural resources, and to adapt to and mitigate climate change.
The intermediate objective of the project is to build the capacity of agricultural communities in the mountains of Viengkham District (Luan Prabang Province) to produce sustainably and to manage and conserve their natural resources.
The project has been divided into sub-objectives:
Farming systems that are technically, economically and environmentally effective will be implemented by 550 farming families. These systems will address the problems of food security and soil degradation, in particular. A total of 600 hectares of farming land will be developed for the introduction of new agroecological practices. A technical center will be set up, where local community training in agroecology will be offered and 60 'master farmers' trained.
Ten land use plans, twenty local development plans and eight gravity-fed water supply systems will be put in place. 800 hectares of communal land will be made available for the establishment of local development zones. 9300 hectares of forest will be registered and managed in accordance with national legislation and village regulations. 1000 hectares of land will be rehabilitated to protect source water and transport routes (roads and rivers) and conserve local flora and fauna. Finally, a technical center will produce some of the seedlings for the forest activities and train one nursery worker per village.
The outcomes and impacts of the development plans and production systems in terms of conservation of productive natural resources (water, soil and biodiversity) and greenhouse gas emissions (carbon sequestration, emissions reduction) will be checked and assessed.
The findings and lessons learned will be disseminated, and local partners trained to replicate the project on a wider scale.
Check out the testimonies of: