Mauritania
Biodiversity conservation in the Diawling National Park through sustainable and participatory management
---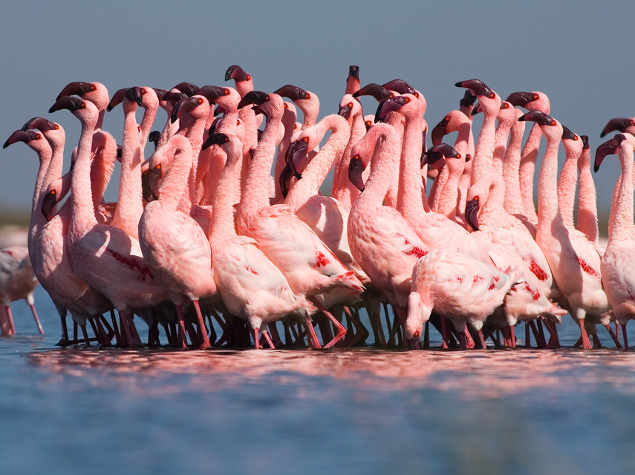 Diawling National Park covers 16 000 hectares, with a peripheral area of 56 000 hectares. Designated as a wetland site of international importance, the Park has 300 species of birds, including 130 migratory species, and is also the only nesting site of the lesser flamingo in West Africa.
The reserve was created in 1991 as a compensatory measure for the construction of several dams on the Senegal River that led to substantial changes in the water regime. The resulting decline in natural resources had a devastating impact on the local economy, which consists mainly of fishing, trading, livestock rearing, food gathering, crafts, market gardening and tourism and accounts for an estimated 80% of the local population's income. The growth of human and livestock populations and the harmful impact of invasive plants on economically or ecologically important species are increasing pressure on natural resources.
However, after 20 years of restoration efforts, thanks to the construction of hydraulic structures and dikes to manage and release brackish water into the former floodplains, the Park has successfully rehabilitated its ecosystems and once again become an important biodiversity site. Ecological restoration initiatives have enabled bird habitats to be restored, and ecological monitoring has shown an exponential increase in the number of bird species found in the Park.
The new 2013-2017 management plan, drawn up with local community involvement, includes a 6000 hectare extension to the Park.
The GRET project, the main objective of which is to strengthen the Diawling Park's biodiversity conservation initiatives in the Mauritanian lower delta and to reinforce its role as a driver of local sustainable development, is part of this new management plan. The project concerns three of the six planned action programs, which are to be set as intermediate objectives.
These intermediate objectives are:
To ensure that the Park fulfils its conservation role by improving zoning of protected areas. To this end, certain areas will be split up with the aim of putting them to better use and reducing conflicts. Other areas, situated on its periphery and with high biodiversity value, will be incorporated in the Park. These Protected Natural Areas will be established with the agreement of the local communities, thereby balancing both human and wildlife interests, and will be managed and monitored. Finally, initiatives will be developed for the control of typha (an invasive plant) and the restoration of native species that have economic value.
To promote shared governance of the Park and co-management of its natural resources, enabling greater local community acceptance and better governance. To this end, the Park's users will take part in decision-making on its management. Consensus-based management of water release to the floodplains will be introduced to meet both economic and ecological needs.
To enhance economic development of local resources. As reaffirmed in the new management plan, economic development will be supported by the extension of sustainable methods for exploiting, processing, packaging and marketing local resources. These natural resources include typha, from which coal, compost or fodder can be produced, and non-timber forest products such as water lilies (from which couscous can be made), acacia (for its gum and pods) and sporobolus.
Finally, the role of women will be emphasized in this project. While most of the women are engaged in craft activities, they have little influence as yet on decision-making.