Philippines
Filipinos in support of flying foxes
---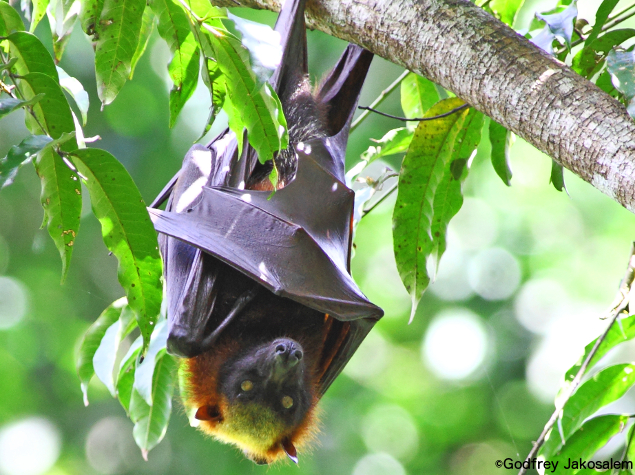 Southeast Asia is a critical area for biodiversity conservation: levels of species richness and endemism are among the highest in the world, but rapid land-use changes endanger much of the region's fauna. The Golden-crowned flying fox is endemic to the Philippines and has been listed as 'Endangered' by the IUCN. The population has declined an estimated 50% in the last 30 years. Severe habitat loss is the primary force driving population declines and, despite the fact that it is illegal, the bats continue to be hunted as food. Also this species is a very narrow ecological specialist, foraging and roosting primarily in undisturbed native forest, making it extremely sensitive to anthropogenic disturbance.
This project is part of a larger program managed by Bat Conservation International seeking to secure priority roosting sites used by the Golden-crowned flying fox across its full range. Built on the success of established projects in Visayas (Mambukal and Dalaguete areas) and Mind (Subic Bay and Baggao areas) islands, Fondation Ensemble is funding an expansion project on Luzon Island, Philippine's main island. At the end, this nationwide program to-date will result in nine protected roost sites distributed across the Philippines.
The in-country partner on Luzon Island will be The Mabuwaya Foundation, bringing a strong focus on community engagement and management of protected wildlife.
The main goal of this project is the immediate protection of roost sites used by the endangered Golden-crowned flying fox across its range on Luzon Island.
To do so, various objectives had been set:
Immediately improve the conservation status of the Golden-crowned flying fox by establishing community-led roost sanctuaries at a total of 3 priority sites in the Luzon region.
Empower local children through educational programming and provide community leaders with information to manage the roost sanctuaries in such a way that they become centers of community pride and, in some cases, potentially sustainable eco-tourist attractions.
Launch a new wave of research surveys aimed at identifying the location of additional flying fox roost sites, particularly those being used by the Golden-crowned flying fox.
The idea of conserving bats is often a brand new concept for communities in the Philippines, but it connects with larger initiatives that are already familiar to the local people. Indeed it is closely connected to forest conservation and restoration.
Much of the work will be focused in lightly populated, rural areas with large remaining forest fragments. Given the strong human pressures on local natural resources through agriculture and associated forest clearing, the NGO's educational outreach campaigns will focus on the importance of bats in maintaining healthy and vibrant ecosystems with ample water supplies and agricultural production (e.g. pollination). Finally, our regional teams will conduct training for hunters, farmers, and protected area guards in the methods for counting bats, so that they will quickly observe on their own that populations of the Golden-crowned flying fox are surprisingly low.
Also, research has shown that the populations of this flying fox species at protected roosts are 12 times the size of those at disturbed roost sites with the same amount of forest habitat.
Final summary report (January 2017):
During the implementation period of the project, Bat Conservation International has:
Helped to create of 3 sanctuaries to protect the species (including one of 1,300 hectares).
Led awareness actions towards 150 children and trained 130 community leaders to the roosts protection.
Discovered 97 new roosts throughout the country.