16 October 2017
How can conflicts be mitigated when water becomes scarce?
---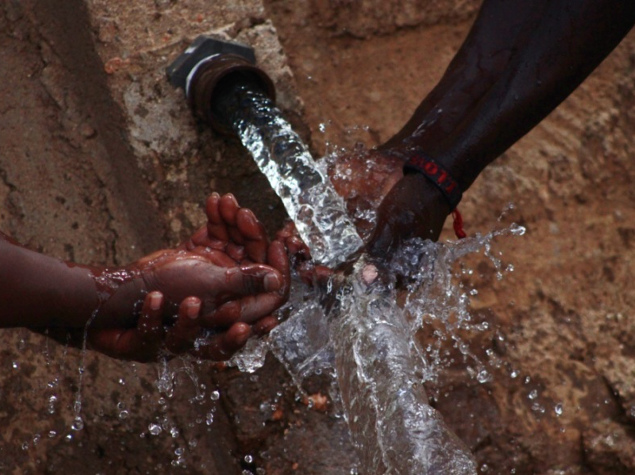 In the Lekurruki Nature Reserve in central Kenya, water becomes increasingly scarce during the dry season. Lekineji Moile and Ltiriyon Lelemoyog, respectively members of the Maasai and Samburu communities, talked to the Excellent Development teams about all that has changed in their lives since they helped build the Nolasurai sand dam. Fondation Ensemble supported this project from June 2016 to June 2017 in the framework of its 'threatened animal species' fund. For not only do around 2000 people have access to water throughout the year but human-wildlife conflicts in the area have also become much less frequent. New friendships are now flourishing between rival communities. As is long-term cooperation …
Lekineji Moile, member of a Maasai community, lives in Lekurruki. He is well acquainted with the advantages of sand dams, having himself taken part in building the Nolasurai dam in 2015. 'The water problem is a key issue for both my community and for our environment.' Since the sand dam was built, Excellent Development estimates that 2000 people have gained access to a sustainable water source. These dams also help the communities and their animals cross the river more easily during the rainy season. Lekineji is convinced that the dam will not only benefit the cattle and wildlife in Lekurruki but will also be a factor in encouraging long-term cooperation between the different tribes in the region. The Maasai, Turkana and Samburu joined forces to tackle the water shortage problem, one of the main causes of conflicts between them. And it was on the dam construction site that friendships blossomed between the tribes, a phenomenon rarely encountered in this domain.

For Ltiriyon Lelemoyog, member of the Samburu tribe, the sand dam has made a big difference. 'I used to have to travel further and further away to find water for my people and my cattle. It was becoming a problem. The idea of being on more peaceful terms with the Lekurruki community was also very important for me in getting involved.'

Today Ltiriyon hopes that other tribes may find peace thanks to the sand dams and 'that the project will be extended to other regions to help other communities. I'm convinced that projects like this can help solve water conflicts. Conflicts between communities and human-wildlife conflicts can be reduced, as water will be readily available.'
Testimony shared by Excellent Development.
For further information: