10 February 2017
Testimonies of Isidro Chicaiza and Carmen Ulcuango, beneficiaries of the AVSF project in Ecuador
---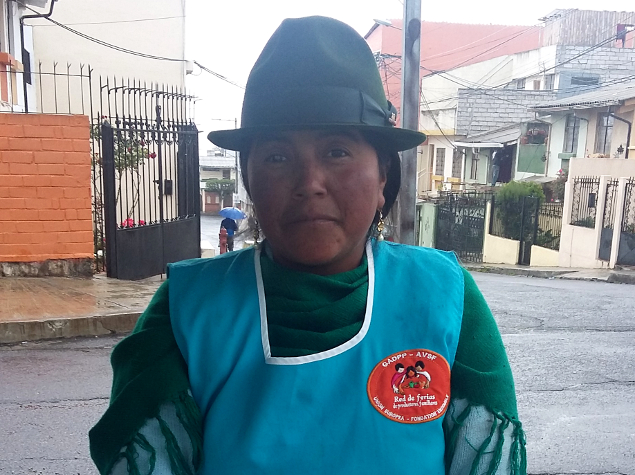 Carmen Ulcuango, a 40-year-old farmer, is involved in the Carcelén Frutos de Nuestra Tierra market and the 'Yo Prefiero' food basket scheme. She works on her farm with her four children, helped by her husband on weekends or when he is not away doing construction work.
"It's quiet here, it's the countryside; the air is pure, it's not like in the town. Farming provides us with everything, but it isn't easy because the soil isn't good. It's cangahua (volcanic crust) and we lack fertilizers.
I like being part of this project because I've learned for the first time how to make fertilizer, mixtures, how to grind up small stones for 'soil mineralization', how to 'prepare microorganisms' and so on. This helps us a lot with our production. By making my own fertilizer, I no longer need to buy chemical products, I have no expenses and the soil quality improves.
I've had also a lot of support. In the past, we didn't know where to sell our produce. We couldn't eat everything we grew and so some of our pulses went bad. With the monthly food baskets, I earn between $150 and $180 (US dollars), and at the Carcelén market I make around $60 nearly every week.
That helps me financially: I can contribute to my children's education, to transport and food costs. And on top of that, I don't buy all my food any more. I now have a bigger variety of produce all the time, to eat or to sell. I bring back strawberries, blackberries, oranges and mandarins from the market, which we hardly ever used to eat.
I hope to continue farming, growing more types of crop. At the markets, they want more produce."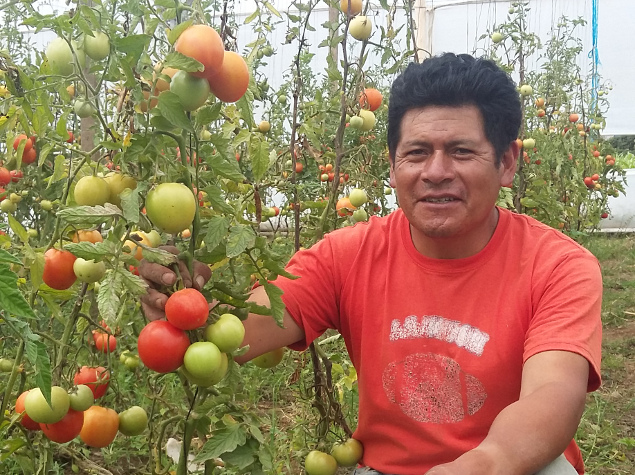 Isidro Chicaiza, a 49-year-old farmer. He lives in Santa Marianita and works with his wife. His two daughters help them after school. He mainly grows tomatoes, strawberries, peppers and cucumbers … He could grow more but he has water access problems, and so not all the land can be farmed. He has to to optimize water use, which is why he uses a drip irrigation system on several crops.
"I like my community. It's a healthy place, we're in the open air, we live in a community and there's a spirit of solidarity between us. I don't like living in towns.
I also like taking part in the workshops and exchange visits, discovering new places and learning new things. […] I've gained a lot from what I've learned: I know more, my yields are higher, my crops grow well. We're organized and we've been able to improve ourselves, little by little.
Everything's positive as far as I'm concerned. In the past, projects came, and they taught us how to produce, but now the important thing is being able to sell. We work more systematically and we're not afraid to produce because we know where to sell. With the food baskets, I earn between $100 and $140 a month and at the Carcelén market I make about $80.
We eat much better nowadays and exchange our produce, rather than having to buy food as we used to do. We haven't had to buy anything for three years now. Every week, I exchange about $10 to $15 worth of food; I take cheese, empanadas, bananas, onions, yoghurt and so on.
I don't use chemical products on my crops, which makes us healthier and doesn't destroy the soil and the environment. […]
In terms of the family, I want us to continue working together without having to move to the town. My married children have come back and now we're building new greenhouses so that we can all work together. But we need other outlets as well as Carcelén so that we can carry on selling."
Find out more on the AVSF project in Ecuador here.