6 October 2016
Testimony of Mr. Lorn Samoeun, entrepreneur of the People in Need project in Cambodia
---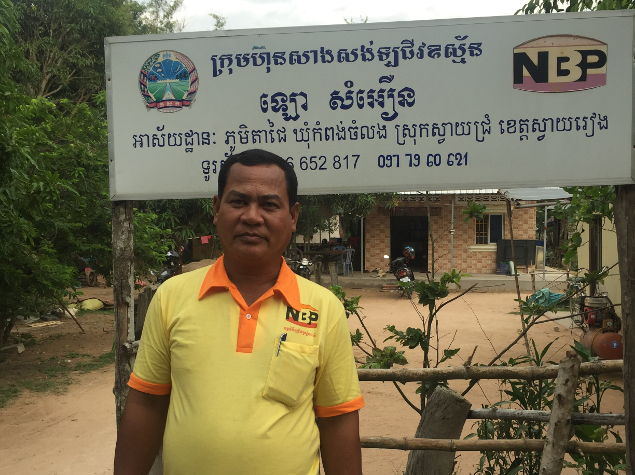 Mr. Lorn Samoeun is 45 years old, from Ta Chay village, Svay Rien province. He has joined the National Bio-digester Program as a mason in 2007 and became a Bio-digester Construction Agent in early 2009:
« I was very interested in the mason position for bio-digester construction work, when one was built in my village. Now, my company has constructed over 650 plants in its target districts. My business had a very good success for promotion and marketing the biogas in the rural market.
My family uses a bio-digester plant for improving its living conditions through the bio-digester's benefits. It motivates me to introduce the technology to other farmers. The key motivations for me to get involved in the program to promote this technology was to reduce deforestation, to improve my family's health and environment, and to have a clean kitchen.
In addition, bio-digesters improve crop yields, reduce fire wood usage and spending on animal feed and chemical fertilizer.
I still have some challenges for the biogas market such as customer's income generation (because of the long drought this year), decrease of cattle raising, and most farmers would like to spend their money on solar home systems or grid connection for their family.
But, I think that the bio-digesters market will be strong in the future because the farmers will understand their benefits and install one for their family, even if there is no subsidy from the program."
Check out the People In Need project in Cambodia.