Peru
Supporting Sustainable Forestry, Agriculture and Tourism Industries
---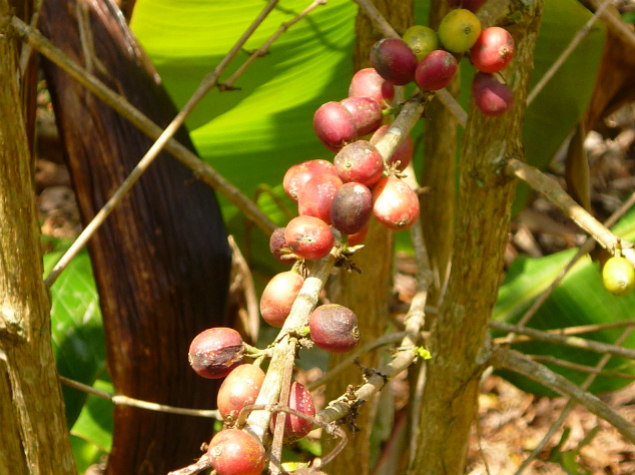 This project is part of the program Initiative to Conserve the Andean Amazon (ICAA)  for the preservation of the biodiversity in the Andean Amazon regions in Colombia, Ecuador, Peru and Bolivia.
Objectives
• Increase use of sustainable practices in forestry, agriculture and tourism;
• Increase land area and sites of special biological importance under sustainable management;
• Increase sales of sustainably-managed or certified products and services;
• Improve the business competitiveness of sustainably-managed or certified forestry, agriculture and tourism operations, while advancing the well-being of workers, producers and their families.
Monitoring process
• 4 narrative and financial reports including 1 final report;
• Intermediate evaluation in November 2010;
• Visit of Burkhartdt Gilles and Anne-Laure Balan Peyrot in November 2010;
• Final evaluation in November 2011.
Results and

Indicators
S
elected indicators

reveal

that

all

the goals were

achieved

and

even

exceeded:
• 319 082 hectares certified (160%)
Land area newly under certification of coffee (72,469 has.) and forestry (246,613 has.) amply surpassed the planned output of 200,000 hectares, thus resulting in increased volumes of these certified products.
• 88 million USD in sales generated (222%)
Value of sales of sustainably-managed or certified products of coffee ($74.4 million), timber ($10.9 million) and Brazil nuts ($3.5 million) amply surpassed the planned result of $40 million. This was the result of increased volumes and higher market prices of these products.
• 7 425 producers and operations assisted (212%)
Number of agriculture operations and forestry and tourism workers impacted by project assistance in coffee (5,089), in forestry (1,589), and in tourism (747) amply surpassed the planned result of 3,500 producers and operations.
• 37 125 individuals impacted (206%)
Estimated number of people directly and indirectly benefiting from the project (37,125) exceeded the planned result of 18,000.
• 10 014 individuals trained (835%)
Number of people trained in Natural Resource Management or biodiversity conservation in coffee (6,148), forestry (1,802) and tourism (2,064) amply surpassed the planned result of 1,200 individuals.
Extract from the final report
Because the project has demonstrated its ability to implement efficiently, fulfill its expected results, and achieve considerable impact on the target population and its supporting entities, it is definitely replicable and should be extended to other Amazon regions of Peru.
From the initiation of the project throughout its implementation, the ICAA project has focused on bringing institutions together in strategic alliances in support of project activities all along the value-added chain from production to product improvement to marketing to the final user.
Strategic alliances have also been developed between beneficiaries and supporting associations/stakeholders, as well as with local and regional governments such as the five district governments in Junín, Cusco and Puno and the regional government in Madre de Dios.
The project has made concerted efforts to educate and empower farmers, foresters, and land managers to collaboratively manage their natural resources in a sustainable manner. It has trained internal auditors and assessors that work within project beneficiary organizations or operations to carry on financial and management activities after the project comes to an end.
Between the coffee shade and conserved forest—which covers one-third of many farms—that land serves as refuge and biological corridor for an array of wildlife, which is especially important for the approximately 8,500 hectares that lie in the buffer zones of protected areas. The impact of the Rainforest Alliance's work expands well beyond certified farms, since approximately 700 farmers who were trained under ICAA are in the process of implementing enough sustainable practices to qualify for certification, and many farmers serve as sustainability emissaries who convince workers and neighbors to adopt best practices at home and, in some cases, enforce them at a community level.
There is a need for additional resources and time to consolidate what has already been put in place under the existing project.
Conclusion from the

final

evaluation report

in November 2011
(Evaluation of the forestry section only)
Rainforest Alliance (RA) has succeeded in networking and recruiting public and private sector parties, such as other NGOs, donors, associated enterprises, and local and regional governments, to collaborate in its project efforts, thereby ensuring the attainment of its results and objectives as well as considerably enhancing the sustainability of project activities after the termination of the project.
As a result of an internal mid-term assessment of progress in late FY 2010, the project eliminated some unproductive ac- tivities that had lagged behind and refocused its efforts on those more productive activities that would assist in achieving the project's objectives. This resulted in significant advances in implementation in Madre de Dios and Cusco in 2011 and an impressive fulfilling of expected results (around 98 percent) by the end of the project.
Project management has dealt effectively with exogenous and endogenous constraints to project implementation, identify- ing viable solutions and alternative approaches to keeping on track with implementation. The key to achieving this is a flexible project management style—as well as support from the donor (USAID)—that adjusts to changing conditions.
Rainforest Alliance has demonstrated its ability to implement efficiently, fulfill its project's expected results, and achieve considerable impact on the target population and its supporting entities. Thus, this approach has demonstrated its replicability.
Since baseline data was not collected by the project at the producer level at the moment of participant inclusion, it was impossible to quantify the socioeconomic impacts of the project through traditional interview techniques. However, the use of proxy variables in the form of quantitative results was acceptable and demonstrated the considerable impact of the project on its objectives.
In the contractor's visit with ASCART leaders and his observation of the plant and equipment that is presently in place for handling Brazil nuts, he confirmed a need for some type of improved organization and structure for the association. It needs to capture member equity and distribute net operating margins to participating members according to their usage of the facilities. This would provide an incentive to increase membership as well as increase participation of existing members.
Rainforest Alliance support to intermediate associations in strengthening their organization and operations has been key to linking forestry producers and gathers to markets that provide them with better income opportunities.
Although Fairtrade Labelling Organisation (FLO) certification for agricultural products can have very favorable economic and social impacts on producers and workers of processing entities when market prices are depressed or fluctuate widely, interest in participating in this system wanes when product prices in local markets exceed those established by FLO. This is the present situation faced by Peruvian producers of Brazil nuts and coffee within this project. Given this situation the project has focused its efforts more on best management practices than on FLO certification. In contrast to FLO, certifica- tion of sustainable forestry management by Forest Stewadship Council (FSC) continues to provide producers with higher prices for its certified timber than those for uncontrolled timber harvesting. Since the demand for certified timber is increasing as are their market prices, interest in FSC forestry certification is also growing.
One of the various recommendations is that Rainforest Alliance should continue to provide assistance to producers/gathers
Report summary of the ex-post visit done in April 2014
(this visit only concerns the coffee part of the project)
Discussions with the coffee producers met showed a tough situation for these families since 2011 (end of our funding) due to the Roya (coffee rust disease) impact on the production. However, plots are under restoration and the producers helped by RA, as well as their cooperatives, should come back to a normal, and even improved situation, by 2017.
Field visits also enabled to see that despite the results obtained during the project, including 89,000 ha certified, a huge support had still to be given, both in cultural techniques and environmental protection (valorisation of processing wastes in solid or liquid natural fertilizers, cyclic trimming of coffee trees, setup of grey water treatment stations, use of microorganisms to accelerate the treatment of water and production of compost, mechanical weeding, forest cover improvement, …). In the end, this roya crisis allowed, for the cooperatives' members, to start again their plantations from scratch, using more improved techniques which should give good results in the future. It's a blessing in disguise… The continuing support of RA has therefore been really beneficial.
However, it is regrettable that RA's action strategy, based on specific product certification, with strong connexion with the international market, provides limited flexibility for improvisation and adaptation, especially concerning the diversification of supported products or the integration of actors dedicated to other types of products. Indeed, it seems that the first deforestation source is currently the increase in intensive pineapples and citrus plantations, as reflected through the many recent plots and the huge number of tree nurseries in the zone; a response from the producers to the losses due to the roya. RA's operating mode, fully focused on certifiable RA value chains, has not allowed, despite more than 10 years of presence, to act on these topics.