India
Support for preservation of the natural habitats of the Tansa Valley to improve conservation of the rusty-spotted cat
---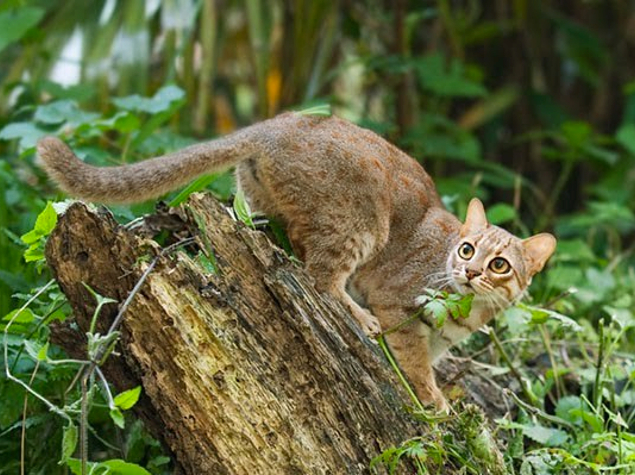 The project aims to support conservation of habitats on the outskirts of the Tungareshwar Wildlife Sanctuary, and by extension the Sanjay Gandhi National Park. This region is rich in biodiversity and home to 50 000 insect species, 172 butterfly species and 150 local bird species. The project focuses on habitat improvement and conservation of the rusty-spotted cat (Prionailurus rubiginosus), which is classified as vulnerable by the IUCN and listed in CITES Appendix 1.
The main threat to this species is the destruction of its ecosystem. The areas on the outskirts of the Sanctuary are being developed for agriculture and clay exploitation for the manufacture of bricks that are sent to Mumbai. As yields from the land are low, the local population remains very poor and marginalized. There is, however, considerable potential for increasing soil productivity and diversifying production by growing local plants, in particular for the extraction of essential oils.
The main objective of this project is thus to contribute to reducing pressure on forest areas and thereby help conserve the habitat of the rusty-spotted cat while helping local communities living on the outskirts of the Sanctuary to improve their living conditions.
Various initiatives have been planned to meet this goal:
Develop a program that combines conservation and development in 21 Tansa Valley villages. A tree planting program with farmers and a women's group that are part of a Self Help Group is also being conducted.
Support economic development at the local level by means of organic farming and agroforestry, encouraging the planting of economically valuable trees. The partner NGO is helping farmers not only to find new markets to sell their products but also to increase yield through new production techniques and access to water outside the monsoon season.
Raising local community awareness of environmental issues and of the importance of conserving the habitat of the rusty-spotted cat via environmental education programs in schools and the organization of outreach meetings in the villages and with the Self-Help Group.
Final report summary:
Various activities have been carried out by the Prasad Chikitsa teams over the supported period:
A soil conservation study has been done in 21 villages of the region. Afterwards, 3 water dams were built and their maintenance done by villagers. 18 wells have also been dug.
5 tree nurseries have been created storing a total of 15 000 plants. 3,200 trees were planted.
14 farmers have been supported to sow lemongrass, 6 others Moringa and 25 others jasmin. 11 women took part in a course on vermicomposting.
Trainings based on biological agriculture as well as awareness raising to environmental problems have been organized.