Madagascar
Restoring the Rere turtle at Lake Ravelobe
---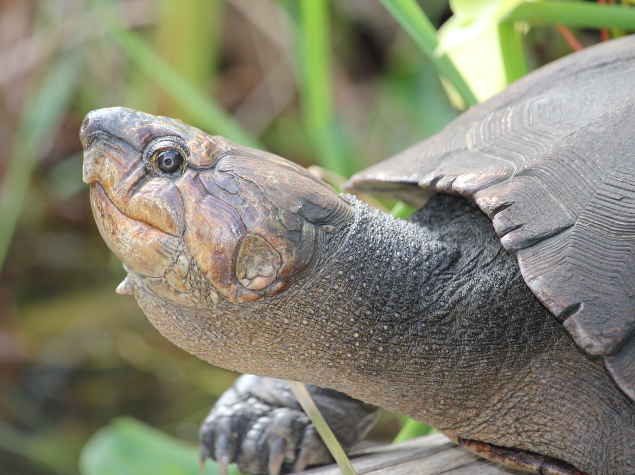 The Madagascar big-headed turtle (Erymnochelys madagascariensis), known locally as 'Rere', is endemic to the island. Listed as Critically Endangered on the IUCN Red List, it is the number one EDGE reptile. Research in the early 2000's showed the species was suffering a rapid decline across its range. In 27% of sites, it was virtually extinct whilst suffering rapid declines in another 30% of sites. Just 8% of sites supported stable populations. Major threats for the rere population are loss of wetlands and turtle consumption by impoverished local communities.
Currently, one of the most important sites for rere is Ankarafantsika National Park where the species is found across three principle lakes: Ravelobe, Ankomakoma and Antsilomba. Lake Ravelobe is the most important for the species. In addition, it is a sacred lake with strong cultural importance to local people and an additional well-defined set of traditional rules for resource use are set for the six surrounding villages through a GPT (Gestion Participative du Territoire – Participatory Land Use).
This project, implemented by Durrell Wildlife Conservation Trust, aims to restore the Rere population at Lake Ravelobe using the species as a flagship to restore the local wetlands.
First, rere population will be bolstered in Ravelobe through releases of headstarted individuals bred at Durrell's breeding centre. Pre and post-release monitoring will be used to assess the conservation impact of this intervention. There has been a single release at Ravelobe of 114 individuals in March 2015 with annual post-release monitoring taking place. This project will enable a second release of 44 individuals to take place in March 2020 when water levels are at the highest.
Second, the team will work with local communities and law enforcement to increase the number of night patrols and thus, reducing the amount of illegal fishing in the lake. Weekly day patrols have been undertaken since 2016 by members of Association Fikambanan'ny Sakaizan-dravelobe (FSR). In addition, quarterly mixed patrols including members of local law enforcement and government and quarterly night patrols with the military take place to maintain and strengthen the relationship between them and the local communities. As the majority of illegal activity occurs at night, this project will enable the frequency of night patrols to be increased to weekly. Data on effort, confiscations and arrests will be collected using the SMART system and compared to previous years.