Namibia
Reducing Human-Painted Dog Conflict in the Naankuse Wildlife Sanctuary through Sustainable Conservation efforts
---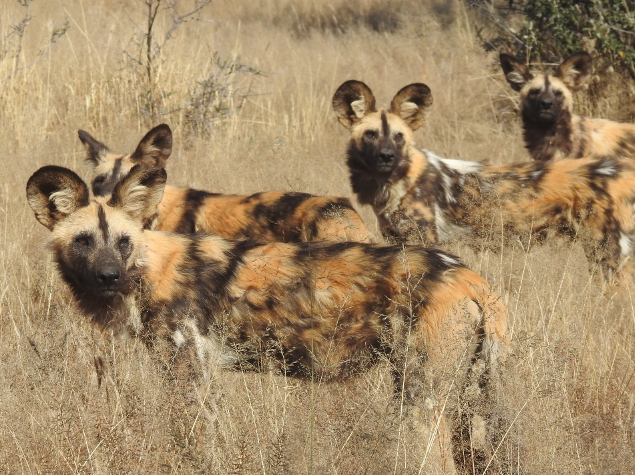 Human-African painted dog (Lycaon pictus) are the most endangered large carnivores in Namibia, with around 300 – 600 individuals estimated to remain in the country according to IUCN's most recent survey. It is estimated that the population reduced of 40% in a decade. Naankuse Wildlife Sanctuary is home to two long-term resident packs of painted dogs and potentially two newly forming packs from dispersing sub-adults. These dogs largely remain within the sanctuary, but also move onto neighboring commercial farmland. In both, they are blamed for high levels of livestock depredation, resulting in human-wildlife conflict. Threats to the survival of painted dogs in Namibia are also habitat loss and fragmentation, loss of prey populations, accidental snaring, road kills, small population sizes and infectious diseases.
The proposed project, implemented by Naankuse Foundation, aims to reduce Human-African painted dog conflicts inside the Naankuse Wildlife Sanctuary in a sustainable way. It will also strengthen the collaboration with farmers and landowners in order to monitor, conserve and protect the species population. The project will be implemented within the Sanctuary, but the study area will be enlarged by adding surrounding farms and private land to the project area to further assess the population size of African painted dogs in the central of Namibia. The whole study area comprises habitat ranging from dense acacia bushland to open grassland.
The perception and level of tolerance of farmers from surrounding farms and private lands will be assessed. To do so, semi-structured interviews will be conducted on current conflicts, conflicts management techniques and perception of the animal. The activity of the African painted dogs will be also studied (distribution, land use, pack composition and dynamics) using camera traps. Wildlife management methods will be implemented when needed, like predator proof to protect livestock or use of bio-boundaries. A second semi-structured interview will be conducted after 12 months of collaboration with farmers to see if there is a positive change after the project.