Peru
Organic cocoa production in the Peruvian Amazon: sustainable livelihoods for indigenous families
---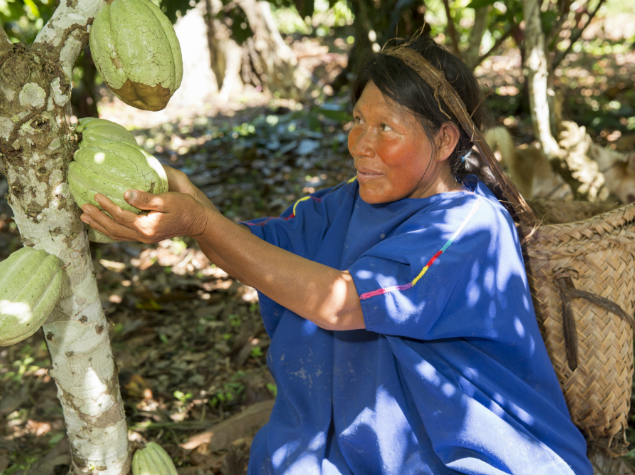 Cocoa production is by far the most important source of monetary income for most Ashaninka families, for this reason, this project attempts to increase Ashaninka families' incomes from cocoa production; to strengthen their capacity to manage the cocoa business; and to ensure that these efforts are environmentally sustainable
Kemito Ene is the association of Ashaninka cocoa producers of the Ene river valley, founded in December 2010. They produce 15 tones per year of organic cocoa which is commercialized to the national and international market by the Pangoa Cooperative, a prestigious local cooperative with already-established access to the international market in France. It has become clear that Ashaninka producers highly value an association of their own and enlisting their commitment will be crucial to ensure sustainability. However, Kemito Ene is still heavily dependent on external support, as it must still develop its own financial, human and technical resources. One of the central objectives of the project is to build the capacities of the organization on technical, managerial and marketing aspects, so that it will achieve self-sustainability by 2015.
You can find an overview of Kemito Ene in this video :
The Central Ashaninka del Rio Ene (CARE) is the main traditional organization in the Ene valley. Apart from its advocacy and political representation duties, with RFUK's support, CARE has built capacities to work on environmental and economic issues and it has been a crucial actor in the implementation of cocoa production and commercialization in the Ene valley by creating and supporting Kemito Ene in all its activities. CARE will enhance its technical capacities to ensure that economic activities in the Ene are carried out according to best practices and following land management plans for communities adjacent to the Ashaninka Communal Reserve, a natural protected area of 184,500 hectares, co-managed by the Peruvian government and indigenous peoples to protect biodiversity and secure natural resources for future generations.
The main objectives of this project are:
– To consolidate cocoa and promote coffee production as a reliable source of income for Ashaninka families by improving productivity and strengthening Kemito Ene's capacities to manage the cocoa and coffee business in an efficient and autonomous way.
Kemito Ene is a solid and autonomous Ashaninka association, capable of producing, collecting and selling organic cocoa and coffee in the Ene.
Cocoa quality has increased by at least 50% and the average production reached 80% of chocolate-suitable quality.
Ashaninka family incomes have increased by at least 30%.
Kemito Ene has launched a pilot project on coffee production, pursuing the same standards followed for cocoa.
– To integrate cocoa and coffee production in the Ene into a comprehensive land management plan and improve production according to environmental standards to ensure forest protection.
Forest clearing from agriculture diminishes, as a result of improved community land management plans.
Kemito Ene's cocoa and coffee production is fully in line with forest and biodiversity protection efforts.