Peru
Land and natural resource management for sustainable agriculture in the Peruvian Andes
---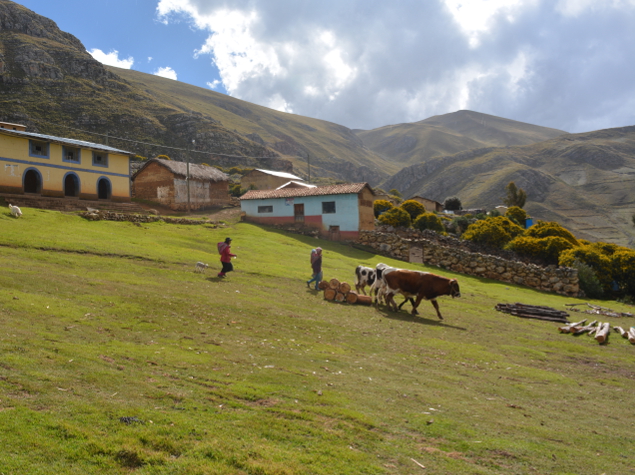 Background:
Peru has a population of 31.2 million people, 21% of whom live in rural areas. Despite continuous economic growth over the last 15 years, wealth continues to be distributed unequally in these areas. Around 20.7% of the population is affected by poverty, rising to over 45% in rural areas in the Andes. In socioeconomic terms, however, family farming remains important, involving 5.4 million people − a quarter of the country's working population − and producing 80% of the food consumed in urban areas.
The mountainous rural areas of Ancash and Huancavelica are also affected by a range of other issues: food insecurity, climate change (increasingly irregular seasonal cycles, interspersed with extreme climatic events such as torrential rain and prolonged drought), unequal access to land, inefficient water management, poor farming practices (irrational use of chemical inputs, erosion, overexploitation and contamination of resources), dependence on markets, market volatility, public policy and investments that are not geared towards family farming.
Women are even more vulnerable to inequalities: unequal distribution of work, lack of access to production factors (land, water, seeds, technology, technical training, loans), illiteracy, lack of social and political participation. Finally, the existing prevention services have little or no relevance to their needs and interests when it comes to access to health care.
Objective:
This project, implemented by Eclosio, aims to build capacity among farming families so that they can exercise their rights and make a proper living from agriculture. This will be achieved by means of land and resources management that is sustainable and based on shared responsibility through the development of economic activities, such as ecological farming, that are compatible with a gender and intercultural approach.
Initiatives:
Land and natural resource management initiatives will be planned, and local stakeholders' capacity will be strengthened in these areas. Community development plans will be drawn up.
Sustainable farming initiatives will be launched, including guinea pig farming, technology-based irrigation, fruit growing, school vegetable gardens, small-scale processing, local markets, and ecotourism. Management of natural resources will also be developed: reforestation, protection of high-altitude lakes, pasture management, etc.
Internships will be offered, and research and case studies conducted. The resulting experiences and learning will be built upon and disseminated to the public via an information sharing approach.
The project partners will be supported in their awareness raising and advocacy initiatives through workshops, talks, radio programs and social networks.
Finally, the project will contribute to gender equality and women's empowerment. Support will be given to women's sustainable farming initiatives and innovations. Their participation in various associations and in local markets will be strengthened. Lastly, in coordination with the Peruvian Ministry of Education and local health centers, teachers will be trained and culturally appropriate teaching tools developed for the Comprehensive Sex Education (CSE) course to be included in the basic education curriculum.