Guinea-Conakry
Improvement of the Chimpanzee Conservation Center's intake capacity and of the rehabilitation process for orphaned chimpanzees
---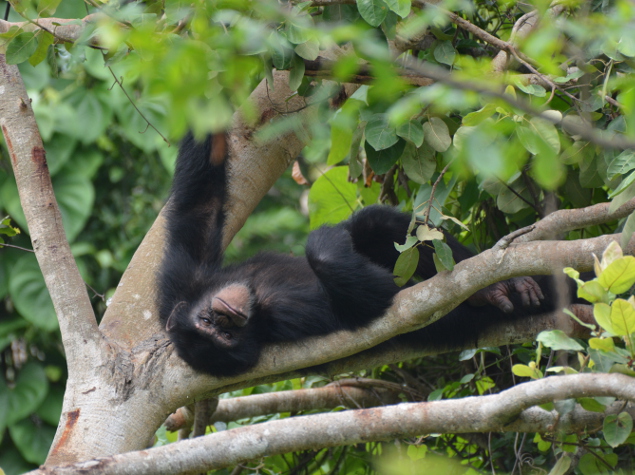 Guinea has the largest population of chimpanzees in West Africa, with an estimated total of 18 000 individuals. In the past, however, the country has been the hub of large-scale trafficking of primates (which led notably to its suspension from CITES). This illegal trade remains highly lucrative, with an orphaned chimpanzee fetching $20,000 on the international market, and remains one of the main causes of the disappearance of the species, along with habitat destruction, hunting and disease.
The Chimpanzee Conservation Center (CCC) was set up in 1997 with the aim of rescuing chimpanzees confiscated by the authorities and rehabilitating them for release into the wild. It is the only such sanctuary in Guinea. Through its rehabilitation work and educational outreach activities with local communities, the Center is part of a species conservation plan. The influx of confiscated animals means that the Center needs rapidly to extend and improve its facilities.
Guinea is just emerging from a health crisis due to the Ebola virus. The Ebola outbreak has had dire socioeconomic consequences, badly affecting many sectors and leading to a temporary withdrawal of investors from the country. The pandemic has also had a negative impact on the CCC's activities, not only because of the potential risk of the virus being brought into the sanctuary, but also because of local price increases, cancellations by volunteers who were to come and lend a helping hand, transport problems, etc.
The goal of this project is therefore to expand CCC's intake capacity by building new infrastructure as well as renovating existing facilities so that the Center can continue its rescue work and ensure decent living conditions for all its chimpanzee 'boarders'.
This project was supported by Fondation Ensemble in 2016. During this period, a new building was constructed, enabling 12 adult chimpanzees to be housed.
In 2017, a second grant allowed the CCC to build a structure adjacent to the 'adolescent' chimpanzee enclosure. Indeed, as the latter has been renewed and expanded in 2016, a building adjacent dedicated to meals, cares and nights, had to be built to accommodate more individuals.
In 2020, this project received a third grant from the Foundation.
Nearly fifteen ecoguards employed by the parc have been trained to use camera traps, GPS and to analyze pictures. 15 missions have been carried out with 25 cameras.
The trail used for monitoring increased in the protected area from 300 km to 500 km. The area monitored increased from 10,000 hectares to 16,000 hectares.
A first analysis of 16 cameras permitted to obtain videos showing 858 chimpanzees events. Malformations have been observed on various individuals, probably due to Pian (syphilis like disease which can be easily cured). In addition to chimpanzees, videos revealed a vast diversity of wild animals (leopards, pangolins, colobus, hippos, …). The images have been shared with the parc's authorities and national television.
It is the third year this program is active, enabling to identify 90 chimpanzees.
This project was partly funded thanks to the sponsorship of a generous donor. If you also wish to support initiatives towards threatened animal species conservation, click here.