Cambodia
Empowering community management of fish conservation zones in Stung Treng Ramsar protected wetlands
---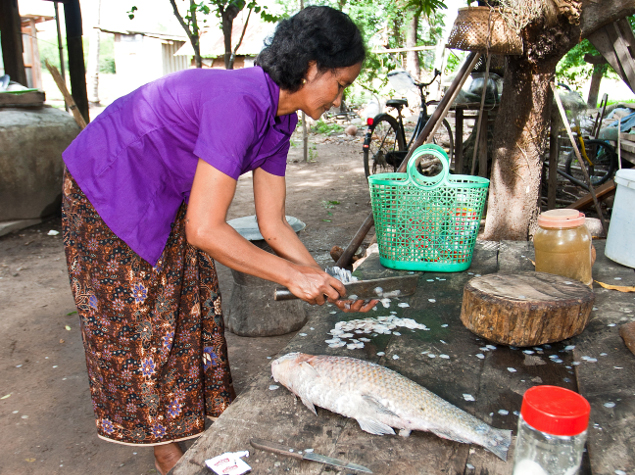 This project aims to increase the resilience of fisheries resources and associated local livelihoods in the Stung Treng Ramsar conservation wetlands, through sustainable community-based fisheries management of 5 priority conservation areas (2 new and 3 created previously) and the waters in-between the conservation areas.
Secondary objectives include the creation and empowerment of a local CFi (Community Fisheries) groups network to protect and manage their own fisheries resources, and also to ensure equitable benefit sharing among local stakeholders, including women and poor families.
To do so, three major activities will be done:
Design and implement management plans for 5 conservation areas (new plans for the new zones and updated plans for the zones established previously) with facilitation and technical support of Worldfish, CEPA (Culture and Environment Preservation Association) and the relevant government agencies. The participatory process will empower CFi groups involved in this project, build their capacity for planning and make collective decisions and will also facilitate a collaborative mechanism for other stakeholders (village and commune authorities) to work together to manage the entire area. The uniqueness of this approach is to integrate into the management plans built-in social protection measures for poor households who live next to the no-take zones and heavily rely on fishing for food and income (including landless people and widows).
Organize multiple CFi groups meetings to jointly protect an area of water outside their individual management areas. To strengthen the network of all CFi groups within the Ramsar site, Worldfish will plan venues to discuss: successes and failures, preparation of contributions and recommendations to the government policies affecting them.
Build the capacity of the CFi groups to mobilize financial and in-kind supports directly from them, from sources other than external project funding, such as local community organizations/women's saving groups and commune level funding mechanisms, to ensure sustainable financing of the future network and continued operations of the CFi activities.
This project started in 2011 to pilot test adaptive co-management of known fish spawning and feeding grounds in which the first 3 conservation zones were established. Results achieved up to now demonstrated that the project approach works. Local community members, and women in particular, reported increased ease of catching larger, more valuable fish with less time and effort in areas nearby the conservation zones, reducing the cost of fishing (less gasoline consumed), and making time for other livelihood activities. Local fishers have conducted regular recording of fish catch and the effectiveness of social safeguard measures in protecting the interests of women and marginalized groups in the community have been periodically assessed. The project is in line with and directly contributes to the current government strategy to manage the Ramsar site and is also aligned with the Fisheries Administration (FiA) strategies in support of CFi.
The support of Fondation Ensemble will also enable Worldfish to increase attention given to the waters surrounding and in-between the conservation zones (activity n°2). It will also permit to raise awareness among the local communities as a whole for the need of their financial and in-kind contributions to sustain the operation of CFi groups, and their compliance to the fisheries regulations, which will eventually benefit them.
Final Report Summary
Significant results have been achieved in all three major activity areas as follows:
The strengthening and scaling-up of the number of fish conservation zones have been made possible through the involvement of local communities. Community groups and provincial authorities carried out regular, integrated patrols of the river's conservation areas. Additionally, the participating communities agreed on a comprehensive management plan for the conservation zones, which was subsequently endorsed by newly-elected local authorities.
A well-functioning community network has been established and the network representatives have been sharing their knowledge and experience with CFi groups in other parts of the country.
Lastly, long-term policy engagement of local communities has been ensured through the integration of input by local community members into the annual activity planning process of the Ramsar site management plan.
Take a look at this video presenting the project:
Click here to access to Chum Cheub (Community Patrol Team Leader) testimony.