Cape Verde
Egyptian Vulture survey & conservation in Cape Verde
---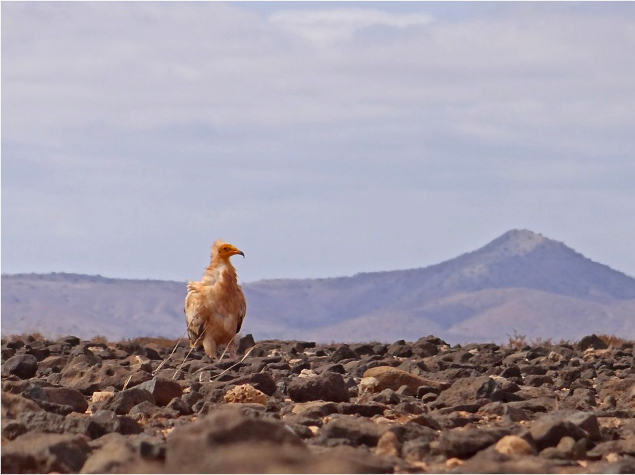 The Egyptian vulture (Neophron percnopterus) is ranked as globally endangered by the IUCN. The only census in Capo Verde was carried out in 1997 and the species seems to be quickly approaching extinction. Therefore, the assessment of the population and its conservation are urgent needs.
The aim of the project, led by COIA (Centro de Observação e Investigação Ambiental), is to provide baseline information on the Cape Verde Egyptian vulture population. This will help delineating a conservation strategy of the species in the country. The project will be conducted on the whole Cape Verde archipelago, focusing on the largest islands and on any others where recent sightings happened.
To do so, various objectives have been set:
A survey of the current population distribution and numbers will be carried out. Data on recent past distribution, numbers and presumable threats will also be collected to try explaining the current endangered status of the population. Additional data on breeding success will be collected as well as on the causes of breeding and nestling failures, fledgling and adult mortality. Data collecting methods include geographically comprehensive interviews with local rural people, regional state officials and technicians as a starting information basis. Subsequent field surveys in focal areas during the breeding season searching for birds, nests and regular perches will be done. Whenever possible photographs will be taken to help individual identification (by plumage and molt patterns).
A preliminary study on the available food resources with data on foraging ranges, availability of rubbish dumps and slaughterhouses, presence and abundance of cattle and goatherds will be made. Data will also be gathered on trends in food availability between recent past and present, namely changes in cattle and goats carcass disposal, as well as in local fisheries fish processing, and the closing up or modernization of garbage dumps. This will be accomplished by the analysis of literature, coupled with enquiries to state officials and technicians as well as to local shepherds and owners. This would allow a rough estimation of the current availability and distribution of animal food resources, and their trends in recent decades. Traditional refuse dumps, modern landfills and slaughterhouses will be mapped and categorized, with characterization of the organic debris available as potential food for the vulture.
Present threats such as poisoning, environmental contamination and decrease in food resources availability will be assessed. Information on past and current threats, such as the legal and illegal use of pesticides will be collected and analyzed, use of poisons against stray dogs and cases of nest robbing will be carried out. The temporal and spatial relationships between toxics use and the species population decline will be attempted through interviews, analysis of reports on pesticide and poison application if available and official information obtained from governmental sources.
A preliminary conservation strategy of the Egyptian vulture in the Cape Verde Islands will be outlined. This strategy will comprise: discussion of the main conservation issues, societal backgrounds regarding identified conservation measures, identification of critical knowledge gaps, conservation guidelines and recommendations and their technical feasibility. The conservation strategy will be discussed in a public workshop.
Molted feathers around nest sites and perches, and samples of vulture remains found dead will be routinely collected, properly kept, labeled, and sent to Porto University where they will be stored for future use in the assessment of the potential genetic distinctiveness and divergence of the Cape Verde Egyptian vulture population.
Based on objectives 1 and 3, a baseline report will be produced and distributed to several cape Verdeans authorities (public institutions, foundations, NGOs, etc …) and particularly to The Convention on the Conservation of Migratory Species of Wild Animals (CMS).
Final report summary:
Various activities have been implemented by COIA:
A direct population study turned out to be impossible to carry out due to the low number of individuals.
The first phase of the project (September 2014 – September 2015) was dedicated to exchanges with the islands populations to know more about the species and the reasons of the decline. More than 1,000 people were interviewed.
During the second phase, funded by Fondation Ensemble (June 2015 – June 2016), the teams sought to improve the knowledge on the species on the Santa Antão island, where the probability to save the vulture is more likely. Interviews have been done on the Fogo island, which was not studied before.
According to the NGO, 6 to 12 breeding pairs remain on the different islands studied.
Various directives were given but a more deepen study is necessary.