Dominican Republic, Haiti
Conserving Breeding Sites of the Black-capped Petrel (Pterodroma hasitata)
---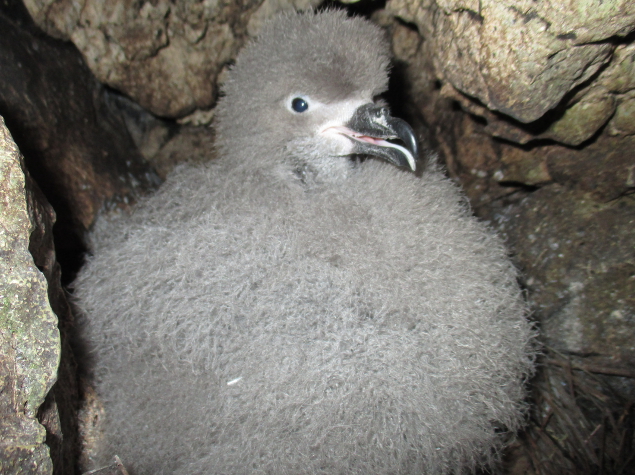 The Black-capped Petrel is a medium-sized, relatively long-winged gadfly petrel. It is listed as Endangered on the IUCN Red List, because it has a very small, fragmented and declining breeding range and population. This seabird is only known to breed in small colonies in the broadleaf and pine forests of the upper mountains and cliffs of the Massif de la Selle and Massif de la Hotte (Haiti) and the Sierra de Bahoruco (Dominican Republic), on Hispaniola island.
The focal point for conservation activities of this species is the village of Boukan Chat (Haiti) which is the human settlement located most closely to breeding colonies in the eastern part of the Sierra de Bahoruco. The economy of the community relies entirely on the short-term production of cash crops. Harvests are often destroyed by extreme climatic events, such as prolonged droughts or torrential rains and flooding, leaving the community without income. As a result, people in this community are expanding their production areas towards the petrel's nesting areas.
The goal of this project, implemented by Grupo Jaragua, is to ensure the long-term survival of Black-capped petrel (Pterodroma hasitata) populations by reducing human pressure on the species and mitigating vulnerability to climate change threats on Hispaniola.
Activities of adults at known nests will be monitored using camera traps in both Dominican Republic and Haiti. The presence and development of the chicks inside the nest will be periodically revised by visual inspection using boroscopes. In order to find more colonies, nocturnal call surveys and digital call recordings with outdoor microphones will be used.
Two trained assistants will carry out classroom lessons, field activities and games. The subjects which will be presented include the local flora and fauna, soil and water and their importance for the community, as well as conservation of this bird as a flagship species. At least three school workshops will be carried out for at least 100 children in Boukan Chat.
Two community meetings will be held in order to promote the introduction and development of sustainable perennial agroforestry systems to replace present short-term cash crop economy. Local farmers and youth groups will be trained in management of a tree nursery and production of saplings. At least 10 families will receive support in the establishment of agroforestry plots and training regarding best management practices including erosion control, composting to produce organic fertilizer, and organic plant and crop protection.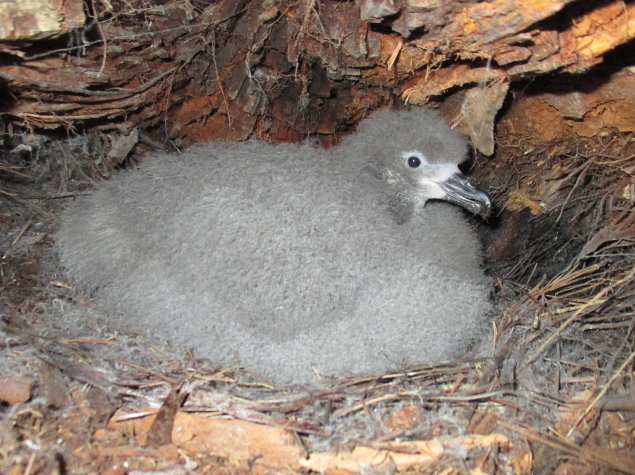 Chick of Black-capped Petrel within nest © Grupo Jaragua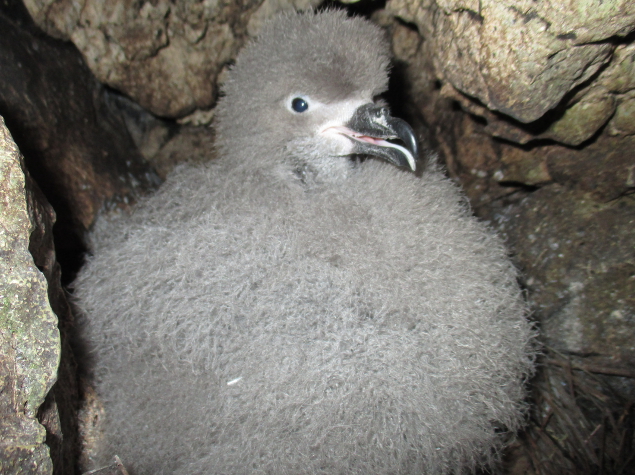 Chick of Black-capped Petrel within nest © Grupo Jaragua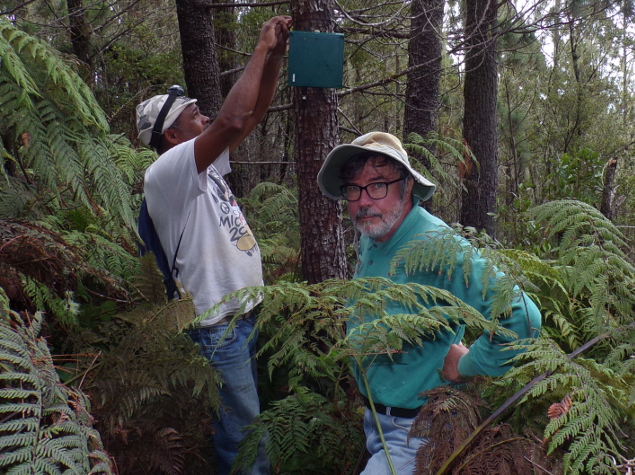 Installing sound recorder to record vocalization of Black-capped Petrel © Grupo Jaragua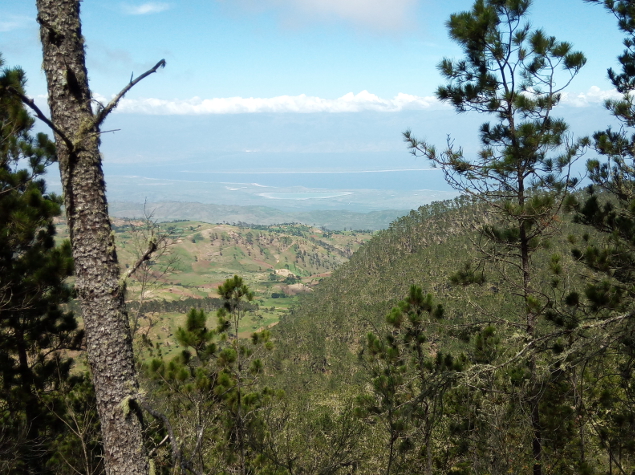 View of Boukan Chat from Lama del Toro (nesting area) © Grupo Jaragua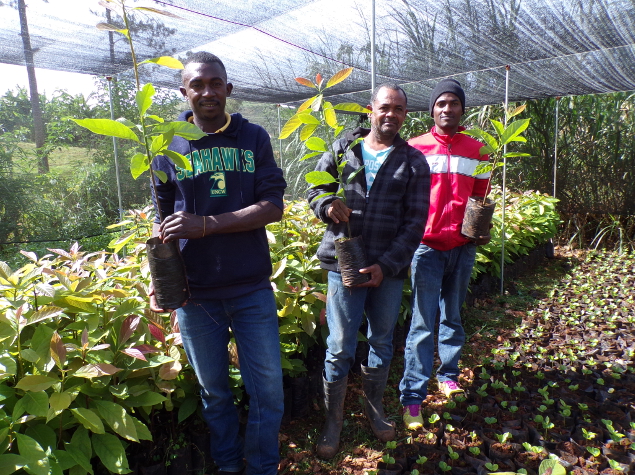 Agroforestry nursery in Boukan Chat, Haiti © Grupo Jaragua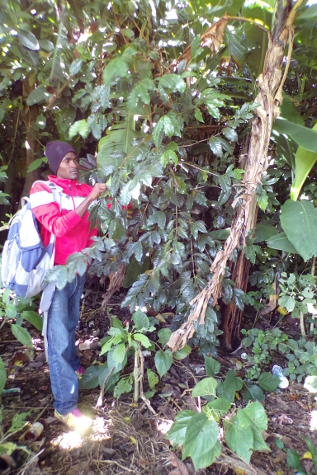 Traditional coffee plant resistant to coffee rust © Grupo Jaragua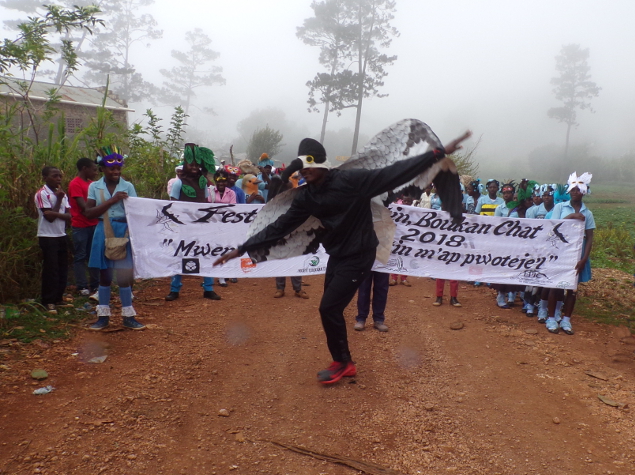 Celebrating the Black-capped Petrel festival with the personalized "Diablotin" leading the procession © Grupo Jaragua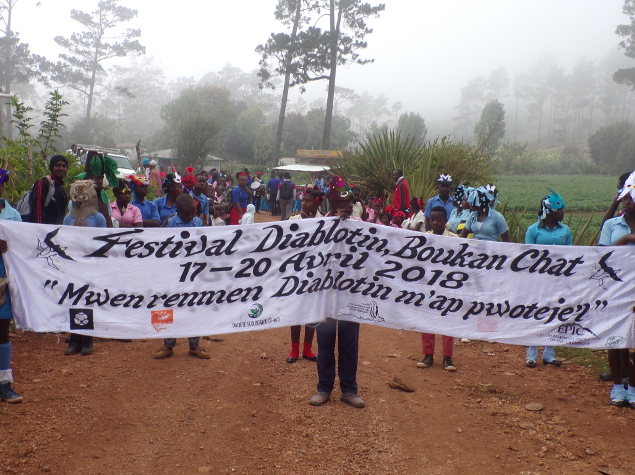 Celebrating the Blackcapped Petrel festival with schools and local groups in Boukan Chat © Grupo Jaragua