Madagascar
Bamboo Lemur Project
---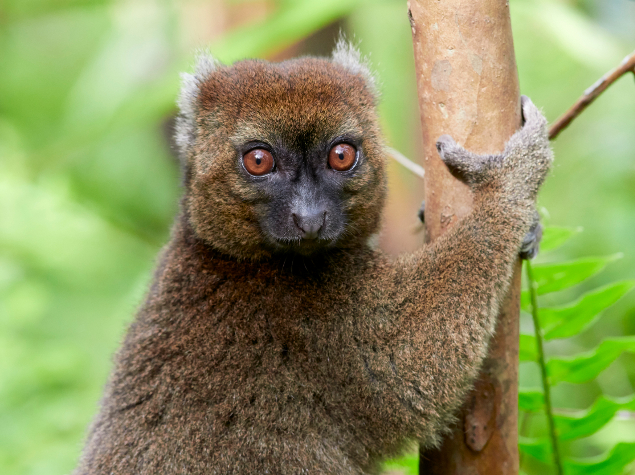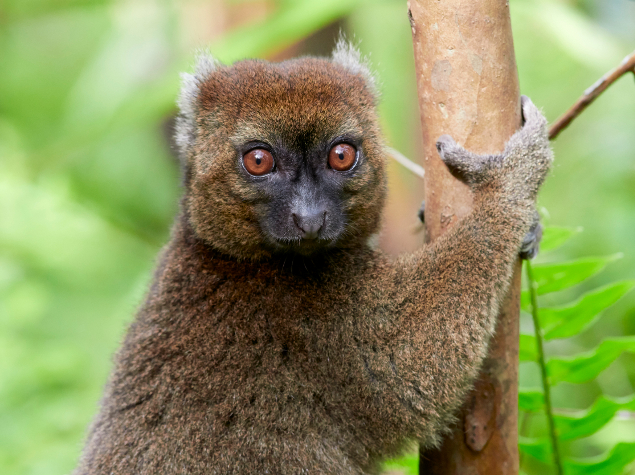 Classified by the IUCN as critically endangered, the greater bamboo lemur (Prolemur simus) is one of the most endangered lemur species in Madagascar, with a population estimated at around 1 000 individuals. The population protected by Helpsimus (400 individuals)  represents almost 30 % of this total and is the species' largest population in the wild.  The lemurs live in an unprotected area on the agricultural land of several villages in an environment badly degraded by slash-and-burn farming.
The Bamboo Lemur project aims to find a long-term balance between human and lemur needs through scientific monitoring of the species, protection of the lemur's habitat, support for the development of villages close to groups of greater bamboo lemurs, and funding for children's education.
The Fondation Ensemble grant will be used to fund economic development and environmental protection components of the project.
Environmental component
The most badly degraded sections of the forest fragments will be restored; corridors between the fragments will also be developed to ensure habitat continuity for the lemurs. During the 2020 reforestation campaign, 30 000 seedlings are to be planted on land belonging to three VOIs (local village associations). To this end, a forest nursery will be set up and three new nursery workers recruited and trained.
Economic component
The aim here is to give local communities sufficient resources to protect the lemurs' habitat. The Foundation grant will enable crop yield to be increased through improved irrigation systems as well as contributing to the development of an ecotourism project.  Two new local staff will be recruited and trained to improve lemur habituation in Sahofika, where the ecotourism project is being developed. At the same time, four local guides will be recruited and given ecotourism training.
Final report summary (July 2020):
Over the funding period, a tree nursery has been built but, due to the COVID19 pandemic, it could not be inaugurated. Two nurserymen have been hired and trained by agronomists (a third one should be recruited soon).
2 new local agents as well as 3 guides (out of 4 expected) have been recruited to improve the Greater Bamboo Lemur habituation and thus develop an ecotourism project.
Furthermore, landscaping works have been done to improve culture irrigation. It benefits to 40 families and enable the irrigation of 7 hectares of land.
Find out more about this NGO in the video below: