Kenya
Enhancing protection of eastern black rhinos at Ol Pejeta Conservancy through improved surveillance, monitoring and incentives for community support
---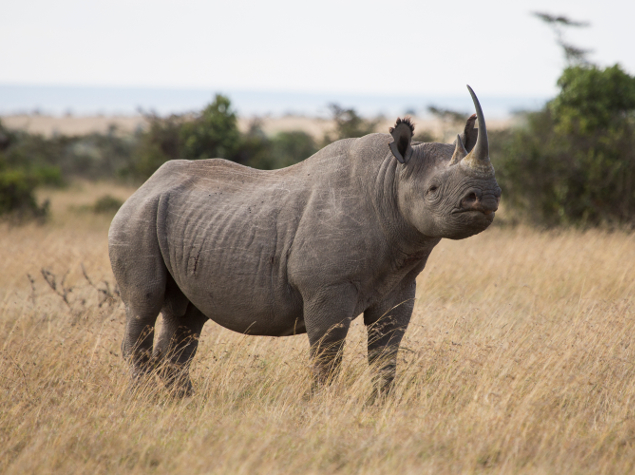 The Critically Endangered black rhinoceros (Diceros bicornis), with approximatively 5,250 individuals remaining in the wild, is under severe and on-going threat from poaching and habitat loss.
With 114 individuals, Ol Pejeta Conservancy is home to the largest population of this species in east Africa and is of critical importance to the future conservation of the black rhino metapopulation in the region. OPC has worked to sustain an average rhino population growth rate of nearly 5% per annum for the past seven years. However, given the current severe threats to rhinos continent-wide from poaching and illegal horn trade and economic uncertainty caused by drought and declining tourism, continued action is needed to ensure the successful recovery of the black rhino in Kenya.
Focusing on enforcement or demand reduction alone will not lead to the cessation of illegal trade in wildlife. However, by engaging communities and creating meaningful incentives for them to opt for conservation over illegal trade is a core component to OPC's Community Development Programme (CDP).
During the period supported by Fondation Ensemble, to engage communities through the CDP, 54 bursaries will be distributed. Also, in order to improve awareness and understanding of rhino conservation threats and needs, access to the OPC will be increased for 18 local communities.
During this project, OPC will also buy veterinary supplies to enable the darting, immobilization, and ear-notching of twelve black rhinos to support long-term monitoring and biological management. Rhino patrol teams will increase their efficiency, responsiveness and mobility with the daily use of a 4X4 vehicle. The teams will also be equipped with field communication equipment.
Final report summary (October 2019):
During the period supported, 22 rhinos were marked in order to allow a long range visual identification. The daily costs of a 4WD have been covered. 29 radios and spare batteries were bought for the rangers. Meetings have been held with members of 4 local communities to talk about rhino protection. Furthermore, 206 members of these communities visited the park. Finally, 80 scholarships were awarded to students from surrounding communities.