Myanmar
Agroecological transition for landless farmers in the Ayeyarwaddy Delta
---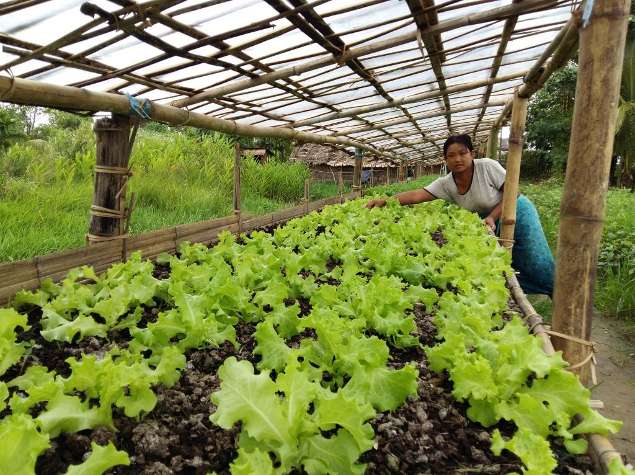 Context:
The Ayeyarwaddy (or Irrawaddy) Delta in Myanmar is characterized by rice monoculture and highly unequal access to land. According to various socioeconomic studies, only one-third of households own rice paddies. The remaining two-thirds sell their labor to rice farmers, farm tiny market garden plots, and raise a few farm animals. This group is being affected by the increasing mechanization of rice farms, which reduces their employment opportunities and forces them to join the rural exodus to Yangon and abroad. They are also turning to fishing in the Delta's rivers, reducing the fish stocks that have already been polluted by the chemical products used in rice farming.
However, some members of the community have managed to develop sustainable activities that bring them a degree of food and economic self-sufficiency (aquaculture, diversified market gardening that targets the local market, off-season production during the monsoon). Despite these efforts, they lack support from the public authorities, who focus exclusively on rice farming in the region.
Objective:
The project aims to create conditions that will enable the Delta's landless farmers' production systems to become more sustainable and more resilient.
Initiatives:
First of all, the market garden and aquaculture production systems will be diversified and strengthened through various agroecological innovations (composting; biological pest control; market gardening on tables or in greenhouses; production of nutritious vegetables suited to a monsoon climate; small-scale aquaculture systems; production of fish fry; integrated aquaculture/market gardening; seed production). These innovations are the result of 10 years of research conducted by the GRET teams in the region. They will be tested throughout the year, compared with standard practices, and managed by the farmers, using simple techniques.
Exchange of good practices among farmers and peer training will be put in place. An advisory service will be set up and jointly run by farmers and technicians. Technical and organizational capacity building will be organized for technicians. Communication, information and educational tools will be developed to promote agroecological innovation on the basis of the outcomes achieved by the farmers' groups.
In parallel, awareness raising initiatives among rural households will focus on the importance of a balanced diet, rich in local agroecological produce. The produce will also be promoted at the Bogale market.
Final summary report (March 2022):
Despite all the challenges in the field, due to COVID-19 and the military Coup on 1st February 2021, the team was able to implement the activities in 14 villages, making a huge work of adaptation to keep supporting farmers through alternative remote ways (Farmer Field School leaders empowerment, online technical support). A participatory diagnosis of landless and smallholder farmers' production systems was realised, reaching 762 people in total (including 55% of women).14 Farmer Field Schools (FFS) were created to support these farmers: 236 farmers (51% women), members of these FFS, were trained on agroecological practices such as natural fertiliser and bio pesticide making. 14 FFS members have built innovative agroecological facilities such as green houses and table gardens. This experience was very positive, creating a new source of income from vegetable cultivation, and several farmers even replicated it without the project support. 144 farmers were also involved in integrated fish-farming (135 dyke copping and 9 rice-fish).
14 FFS leaders were trained and ensured the follow-up of the production, recording the income generated in the plots. The team highly relied on FFS leaders all along the COVID period because of limited access to villages. They followed the FFS group members at village level and kept interacting with the project team (collecting data, sharing technical advices, distributing inputs, etc.), which was recognised as an alternative capacity building of the FFS leaders by the final evaluation (instead of the training of trainers initially planned). They realized 30 training sessions, which were rather house-to-house training performed to FFS members and seed kit farmer recipients. 5 videos were also realized and shared among the farmers and 1 Facebook page allowed the farmers to exchange on their experiences and discuss with an agronomist.
To support food consumption diversity and increase the demand for vegetables coming from agroecological farming, the project also organized nutrition trainings, attended by 623 people, and supported 21 safe vegetables producers who increased their selling days in Bogale from 3 days per month at the beginning of the project, to 12 days at the end. 306 households also benefitted from home garden seed kits, distributed in 14 villages. The final evaluation highlighted that "the project has a very high output regarding sustainable agriculture, rolling-out only agroecology technical itineraries and delivering exceptional results in terms of crop quality, diversification, innovation and economic return for farmers, while phasing out chemical inputs."
Agroecology practices developed by Delta farmers highly contributed to their food autonomy (by improving the local capacities of production and reducing dependency to imported food) and diversification. It also contributed to reduce their dependency to external inputs (thanks to the capacity to locally produce organic inputs). Considering the current context of Myanmar with disturbed market and supply chains, these practices have the potential to be largely disseminated and adopted by farmers to cope with current challenges, enabling a sustainable impact.
Video introducing a beneficiary from the project: