Thailand
Living in harmony together with elephants – Empowering local communities to improve elephant conservation in Thailand
---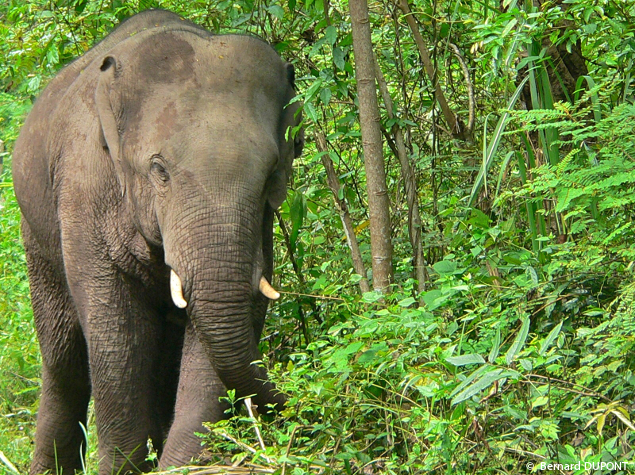 Context:
Some of the world's largest Asian elephant populations can be found along the borders of Thailand with Myanmar or Laos PDR. Unfortunately, threats such as illegal logging, wildlife trade, land encroachment, forest fires and human-elephant conflicts have caused the population to dwindle.
This project, managed by Bring the Elephant Home, aims to mitigate human-elephant conflicts by using integrated ecosystem management and participatory approaches including a new sustainable strategy to avoid crop raiding by use of beehive fencing. It is a known fact that elephants are afraid of bees. They even have a specific rumble to warn each other of the threat of bees. Instead of utilizing expensive and high maintenance electric fences to deter wild elephants, beehive fences could be installed along the perimeter of plantations to stop them from entering.
Objective:
The main objective of this program is to design a new community-based initiative to conserve elephants and to mitigate human-elephant conflicts in South East Asia.
To stimulate dialogue and to gain and spread knowledge about wild elephants and human-elephant conflicts in Loei and Kanchanaburi provinces in order to empower villagers to initiate and manage conservation action and to realize positive change.
Raising awareness amongst local communities and involving them in testing models of beehive fencing techniques suitable for Asia. Spreading the gained knowledge to other human-elephant conflicts areas in Thailand and South East Asia through publications, presentations, community study tours, media and local ambassadors.
Means:
The project combines capacity building and research in order to test, adapt and expand beehive fences as a new human-elephant conflict mitigation strategy, conducted in two zones: the Salakpra Wildlife Sanctuary and Phu Luang Wildlife Sanctuary.
The first beehive-fencing project in Thailand, designed and monitored in the Phu Luang Wildlife Research Center, has shown promising results. It is the first research team in Thailand to conduct a beehive fence experiment with the aim to mutually benefit both farmers and elephants. This program is not community-based at this time and the amount of honey produced is not sufficient yet. However, the communities involved in the elephant conservation program in Kanchanaburi (where the first sanctuary is located) have experience in beekeeping and the marketing of honey production. Collaboration between both parties will therefore be a mutually beneficial relationship.
Thus, this program will bring experts together to improve and expand the existing pilot beehive-fencing project in Phu Luang and to launch a new beehive-fencing project in Kanchanaburi.
Experimental plots will be set up to test different bee species and beehive fencing methods as a solution to reduce HEC. Camera traps will be used to monitor the effect that the beehive fences have on elephant behavior as well as honey production, observing different bee species and experiments with different beehive fencing techniques. If the pilot project is successful, the focus will be to get the results published and to reach out to communities dealing with similar situations. With a good business plan behind the project, beehive fences can be implemented in many more human-elephant conflicts areas in Thailand and South East Asia.
Final report summary (January 2018):
During the period supported by the Fondation, human/elephant conflicts decreased in Loei province but rose in Chanthaburi province. Then the project focused on the Kaeng Hang Meow district (Chanthaburi) and around the Salakpra Wildlife Sanctuary (Kanchanaburi).
Preliminary meetings occurred in the Chanthaburi province to exchange on the conflicts and to meet community rangers. A survey was done with 300 households.
A plot, protected by the hives in Kaeng Hang Meow, was studied. In 87% of the cases, the elephants inspected the fence without entering the field. Over time, they even avoided the hives.
Thanks to the honey collected, two farmers earned in 15 months 1,811 USD (the average wage is 413 USD in Thailand) and another farmer reared queen bees and new colonies (earning 1,207 USD).
Finally, a scientific publication on the success of the project will be soon published. Other beehive fences projects are under study in the country and elsewhere in the world.
Check out these two videos presenting the project :
This project is partly funded thanks to the sponsorship of a generous donor. If you also wish to support initiatives towards threatened animal species conservation, click here.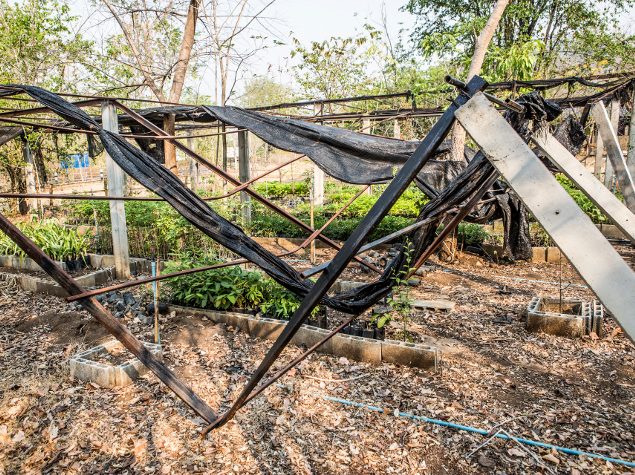 Damage at village tree nursery caused by wild elephants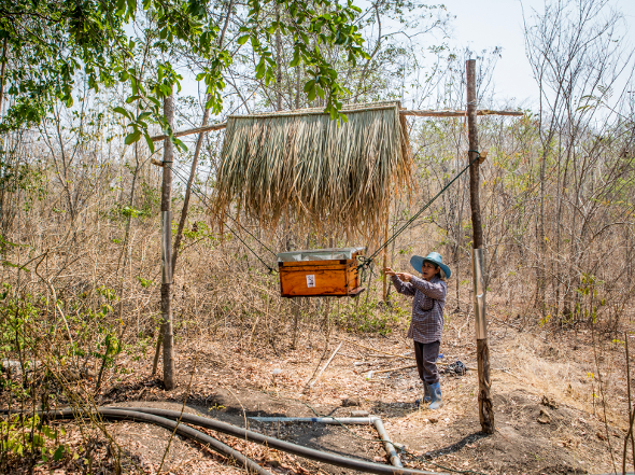 Model Beehive Fence Project in Kanchanaburi © Ana Grillo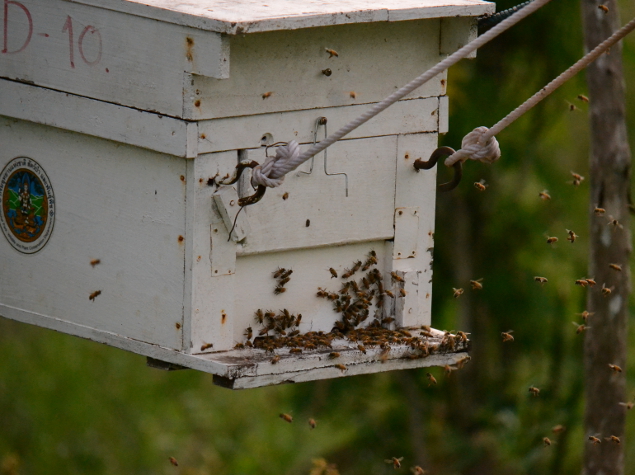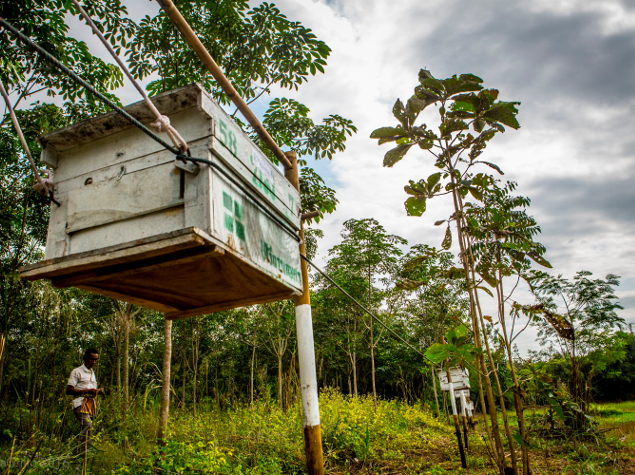 Beehive Fence at farmland in Phuluang Wildlife Sanctuary © Ana Grillo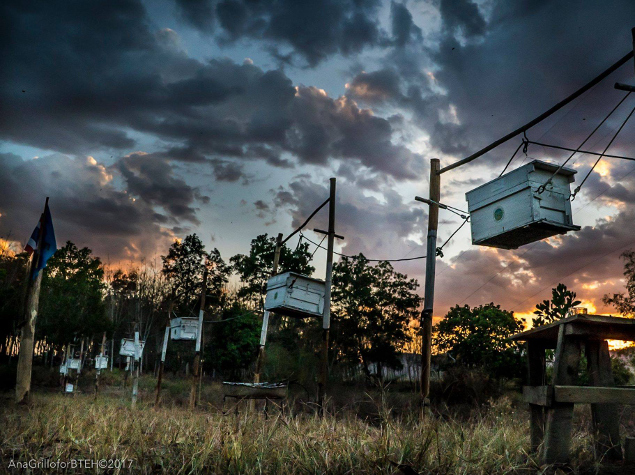 © Ana Grillo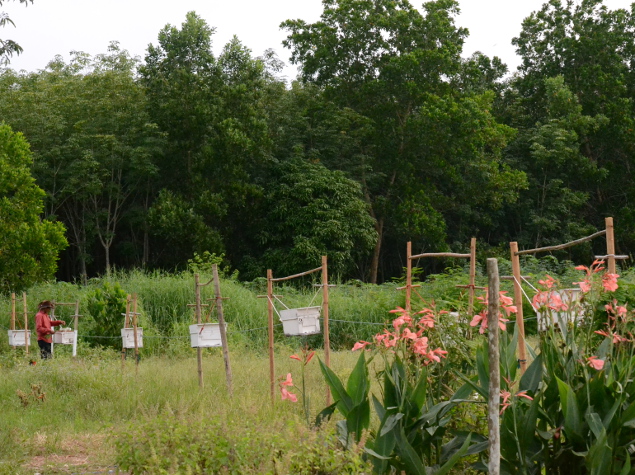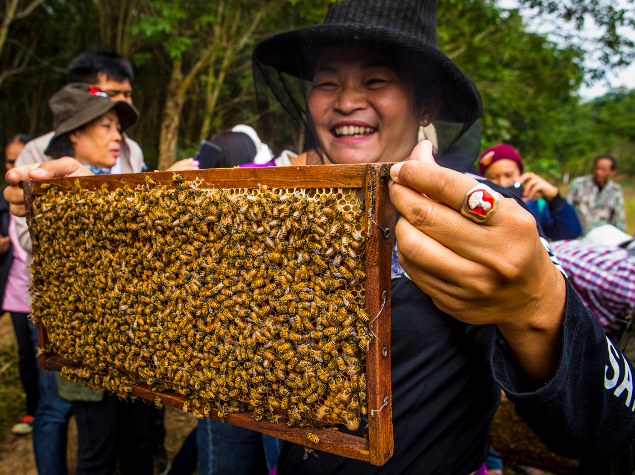 Ms Laor, Sunjirat Village Leader, learns about Bee keeping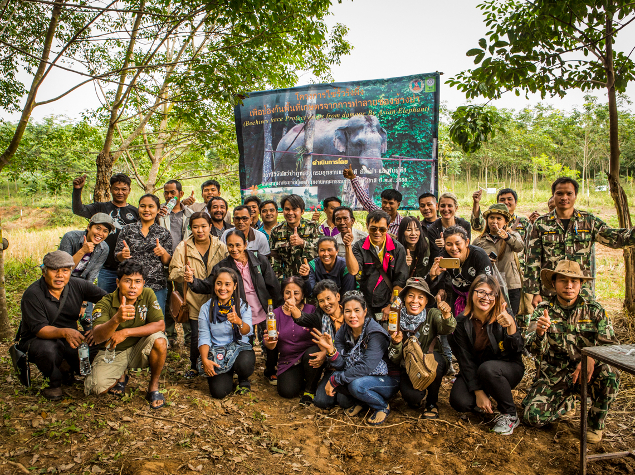 Collaboration between local communities and research about the human elephant conflict mitigation
Training student to construct beehive fences