Malaysia
Artificial nest boxes for the conservation of hornbill populations in the Kinabatangan
---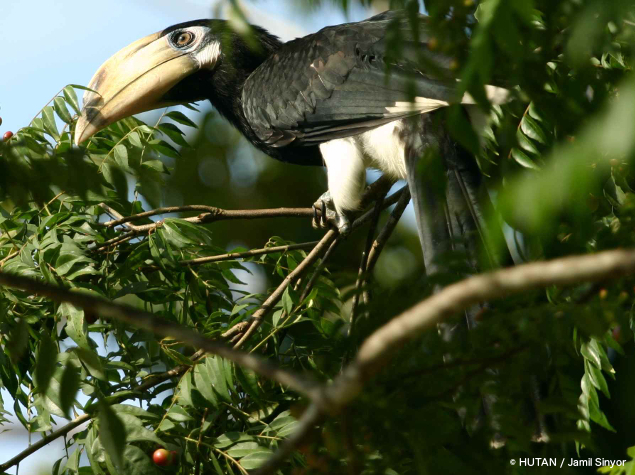 This project is being implemented in the protected, old-growth forests of the Kinabatangan Wildlife Sanctuary (26,700 hectares), managed by the Sabah Wildlife Department (SWD). The Kinabatangan remains one of Southeast Asia's richest areas of biodiversity: it is home to 129 species of mammal (orang-utans, elephants, proboscis monkeys, etc.), 314 species of bird, 101 reptiles and 35 amphibians. It is also one of the few areas in Borneo that is home to all eight of the island's hornbill species. However, the long-term survival of these hornbill populations is threatened by degradation of the local environment. Intensive logging has destroyed almost all the trees where the hornbill nests (in large cavities in hollow tree trunks), replacing them with huge palm oil plantations. This has led to the current decline in populations as the birds cannot find suitable breeding sites.
The main objective of this project is the creation of artificial nest boxes for the conservation of hornbill populations (particularly the helmeted hornbill) in the Kinabatangan.
The nest boxes will then be permanently monitored to assess their effectiveness and to protect the broods from poachers. To this end, Hutan will combine the use of camera traps (to detect visits to the nest), data loggers (to document the appropriate microclimate conditions for the birds to breed), and direct observation by a local team of two research assistants.
Final summary report (December 2017):
During the period supported, various activities have been implemented:
8 artificial nests have been installed. 5 are under construction and 2 new prototypes are in development.
These nests are now used by some hornbill species: two pairs of oriental pied hornbills, and one of rhinoceros hornbill, which gave birth to one fledgling.
A team of 3 research assistants roams every month, during 6 consecutive days, the 10 km of rivers to make a counting of the populations. The number of individuals remains constant but the scarcity of fledglings warns on the need to create favorable nesting conditions.
A presentation has been realised by the NGO's education team. It has been showed in schools and national fairs.
The only known natural nest used by a pair of helmeted hornbills is monitored and protected (a youngster went out in october 2017).
Check out the other project managed by Hutan funded by Fondation Ensemble.