Ecuador, Galapagos Islands
Giant Tortoise Restoration Initiative: Restoring Galapagos tortoise populations and the Island ecosystems that depend on them
---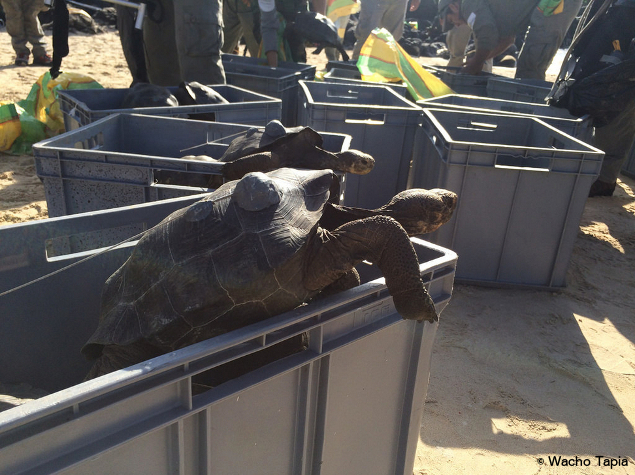 The Galapagos Archipelago has been described as one of the most unique, scientifically important, and biologically outstanding areas on Earth and is home to some of the highest levels of endemism. About 80% of the land birds, 97% of the reptiles and land mammals, and more than 30% of the plants are endemic. Giant tortoises have played an essential ecological role in the Galapagos Islands since their arrival more than a million years ago, shaping the biological landscape to the benefit of the Islands' extraordinary creatures and plants. Of the more than 200,000 tortoises that once roamed the Islands, only 10% remain due to exploitation by pirates and whalers as well as the introduction of goats in past centuries.
On the Española Island, population was reduced to 12 females and 3 males. They were transferred to a captive breeding program in the 1960s and early 1970s. By the year 2014, nearly 2000 young tortoises had been returned to Española. Approximately 50% survive, a high survival rate for this type of program, but their habitat still needs extensive restoration. The habitat on Santa Fe Island, where tortoises have been extinct since the mid 1800s, is similar to Española. While no Santa Fe hybrids have been identified, genetic analyses indicate that the Española tortoise species is the one most closely related to the extinct Santa Fe species.
The absence of tortoises on these Islands, considered as the ecosystem engineer of Galapagos, and the presence of goats has resulted in ecosystem degradation. With healthy tortoise populations as genetically close to the originals as possible, the islands will undergo a broader restoration
The main objective of this project is to fully restore tortoise populations and their ecosystem-engineering role on Española, Santa Fe and Floreana Islands.
Final summary report of the first phase:
In June 2015, 201 juvenile turtles, equipped with passive transmitters, have been released on Santa Fe Island to create a new population in addition to the one living on Española Island. A first turtle monitoring expedition took place in August 2015 (the population is doing well).
Two study tours have been conducted to examine the relations between the turtles and their ecosystem. Data were collected on twenty plots on each island and are currently under study. However, other expeditions have to be done to take necessary decisions for restauration.
Fondation Ensemble supported this project, within the first phase, for 10,000 €.
Final summary report of the second phase:
A new monitoring of interactions between tortoises and their ecosystem has been done on Española island. The data analysis is under progress and a scientific publication is planned. 40 seedlings of a native cactus species have been planted as an experiment.
190 juvenile turtles, equipped with passive transponders, have been released on Santa Fe in April 2017. An assessment also revealed most, if not all, of the individuals previously released are still alive.
Floreana turtles disappeared in the mid-1800s but, during the last decade, species partially descending from it have been discovered on the Wolf volcano, at the Isabela island north end. Individuals have been collected and 4 breeding groups have been formed, giving birth to 27 juveniles in order to implement a breeding program, for eventual release of their offspring back to Floreana.
Fondation Ensemble supported this project, within the second phase, for 8,000 €.
This project is partly funded thanks to the sponsorship of a generous donor. If you also wish to support initiatives towards threatened animal species conservation, click here.
Find out this video after the tortoises release on Santa Fe Island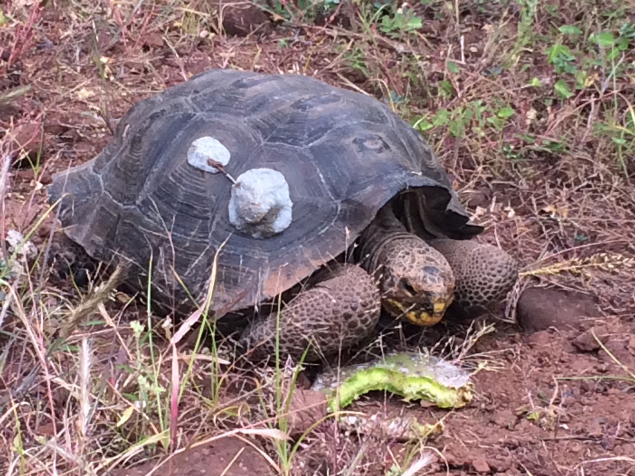 Santa Fe - Tortoise with radio telemetry © Wacho Tapia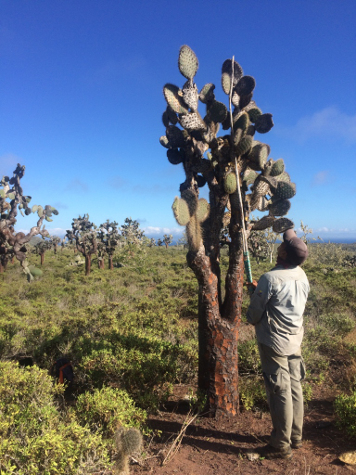 Santa Fe - Measuring cactus © Wacho Tapia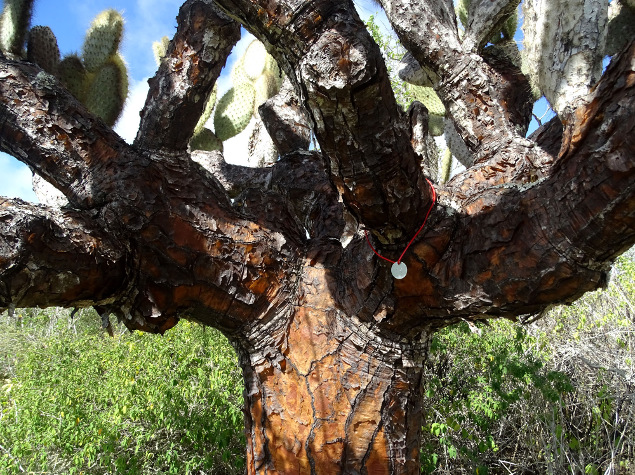 Española - Marked cactus © GTRI GC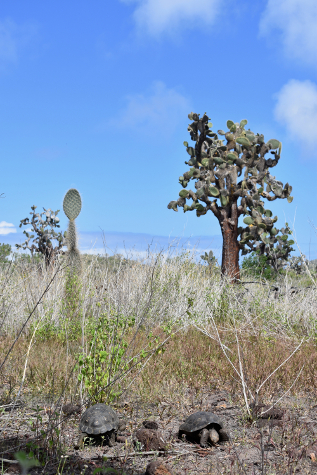 Santa Fe - Release © Maud Quinzin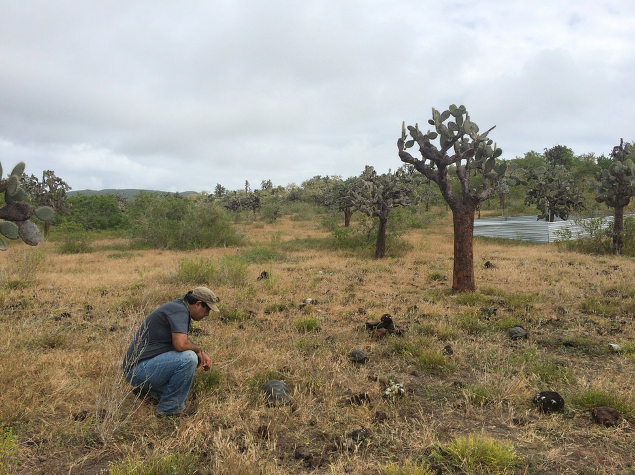 Giant Tortoise Restoration Initiative Director Wacho Tapia with newly-released Española tortoises on Santa Fe. © Galapagos Conservancy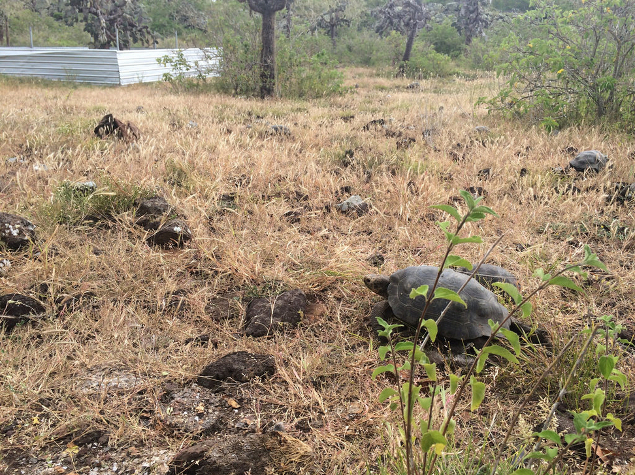 Española tortoises immediately following their release on Santa Fe; tortoise exclosure in the background. © Wacho Tapia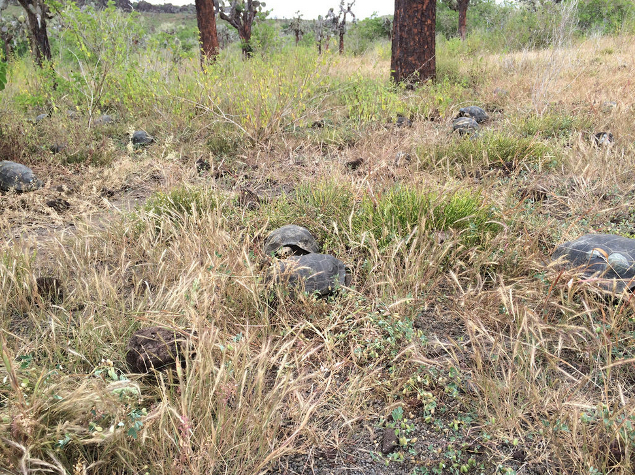 Newly released Española tortoises on Santa Fe. © Wacho Tapia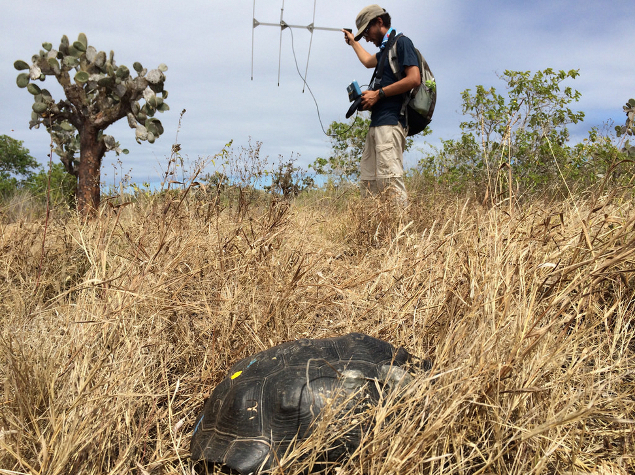 Locating Española tortoise on Santa Fe during the first monitoring trip two months following their release. © Wacho Tapia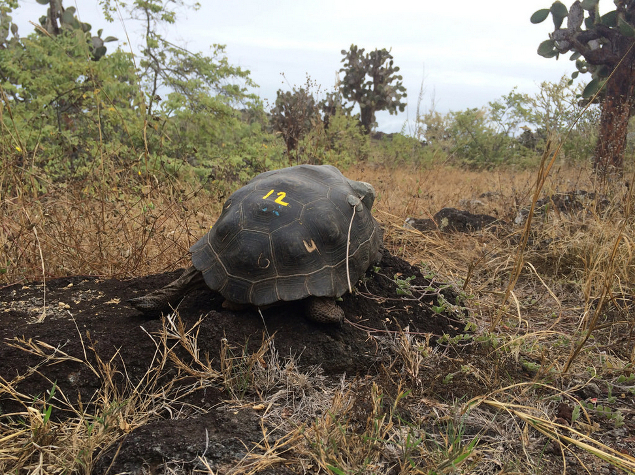 A young Española tortoise on Santa Fe, located on the first monitoring trip 2 months after their initial release. © Wacho Tapia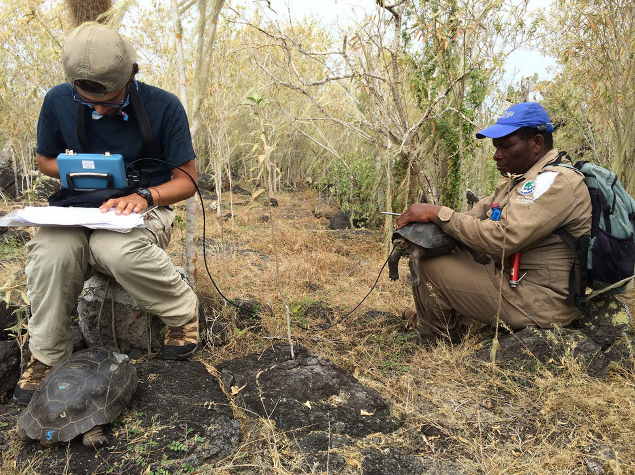 Monitoring young Española tortoises on Santa Fe Island with the Galapagos National Park Directorate 2 months after their release. © Wacho Tapia