Myanmar
Conservation of Sun Bears in Southern Rakhine State
---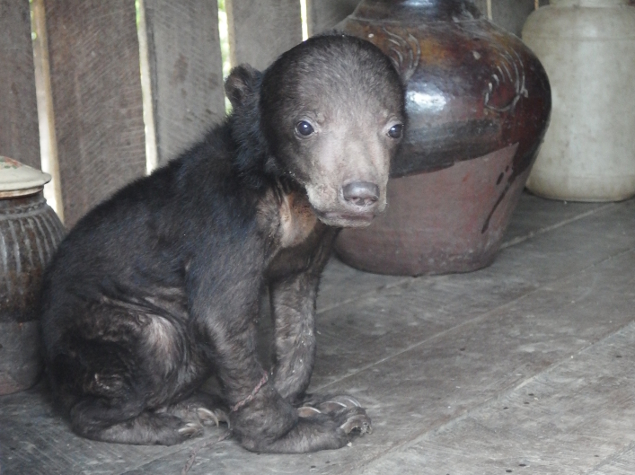 Sun bear is one of the least known bear species in the world, mainly threatened by habitat loss and commercial hunting, which take place throughout its whole current distribution. Myanmar is part of its native range: the country is considered to have the largest expanse of potential species range in mainland Southeast Asia. Reliable data on its current distribution and abundance in Rakhine State (north-western Myanmar) is lacking. The area also hosts medium-large mammals such as: Dhole, Asiatic black bear, Clouded leopard and Gaur but their current presence is unknown.
The goal of this project, led by Istituto Oikos, is the promotion of the conservation of sun bear in Rakhine State. Various activities are planned to reach this objective:
Assessment of the medium-large mammals and prey species presence in the study area to acquire knowledge on Rakhine State biodiversity. Elaboration of occupancy models and species distribution maps for rare and endangered species opportunistically surveyed during the camera trap activities.
Identification of major threats for conservation and delineation of possible mitigation measures.
Local capacity improvement in wildlife monitoring and conservation through the involvement of the local Park Rangers in the surveys and consolidating their professional skills during the field activities.
Implementation of a monitoring methodology to acquire information about sun bear distribution and habitat use that could be replicated in different areas of Myanmar.
Increase local awareness of sun bear and other rare animal species. Public workshops will be organized to share the results of the study with the local communities.
Providing baseline information to develop a sun bear management plan for Rakhine Yoma Elephant Range.
Final report summary (November 2019):
Over the implementation period, 4 sites of 60 km2 each, located on the border of or partially inside a natural reserve have been studied through camera traps and transects. A distribution map of the species has been established. Also, the presence of 24 other mammals has been identified. During these activities, 34 rangers have been trained on monitoring and reporting.
Meanwhile, the NGO intervened in 2 schools to sensitize students to biodiversity protection. 2 workshops have also been held with various stakeholders of the region to talk about the project's results and conservation strategies to adopt. Finally, 4 one-day workshops have been held with local communities. The efforts will now concentrate on scaling up and in particular the involvement of communities in the protection of the project region.