Ghana
Scaling up pangolin conservation in Ghana
---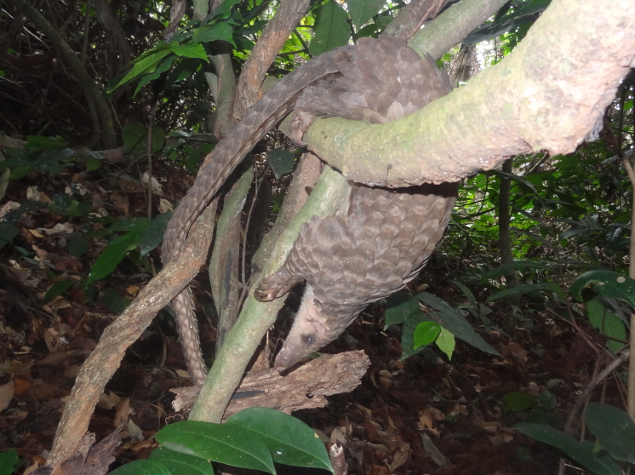 Pangolins are under threat in Ghana and may silently be heading towards extinction. Three species of African pangolins occur there, and are listed as 'vulnerable' on IUCN Red List of Threatened Species. CITES recognizes them as appendix 1. Pangolins are used extensively in African traditional medicine (13 body parts of pangolins are employed in the treatment of 35 ailments) and as bush meat. The situation is made worse by lack of data on the species' population, distribution and ecology, critical to make decisions on their conservation.
The IUCN pangolin specialist group priority recommendation for Africa is to establish baseline ecological data to better assess the impact of harvesting on wild populations. This project will survey the Atewa Range forest for pangolins and establish its distribution, habitat associations and population estimates. Given the severity of the threats to pangolins in Ghana, data from this study is urgent to inform key actions necessary to conserve the species.
Thus, the main objective of this project is to document and obtain a current baseline data on pangolin populations and create conservation awareness on the local and global status of pangolins in Ghana.
This project main objective will be accomplished through the following secondary objectives:
Determine pangolin population and distribution in the Atewa Range Forest Eco-zone of Ghana
KNUST team will use strip transects to survey the pangolin population in the forest. Transect walk will be complemented with opportunistic surveys (use of existing tracks, quadrant lines, dirt roads, etc.) and camera traps to maximize data collection due to the elusive nature of the species. Direct observations and count of fresh signs such as footprints, scats, burrows, termite mounds, feeding signs etc. will be employed during transect walks. Signs will be thoroughly assessed to gather reasonable evidence to determine pangolin presence. Data will be collected in two daily sessions.
Establish habitat characteristics essential for the existence of pangolins in the Atewa Forest Eco-zone of Ghana
KNUST team will measure habitat predictor variables to determine habitat preferences. These variables will include vegetation density. For each encounter of a pangolin, they will record the hour of observation, number of individuals, group composition, age (yearling, sub-adult or adult), sex, tree species that the pangolin was on and habitat characteristics, presence or absence of termite mounds, ant nests, tree termite mounds, holes in trees etc.
Create grassroots awareness on the status of pangolins and the need to conserve them in the fringed communities of Atewa Range Forest Eco-zone of Ghana
This project will create public awareness on the plight of pangolins in Ghana. This campaign will specifically target hunters and African medicine practitioners. KNUST team will share data with them and build their understanding on how continuous indiscriminate harvesting will ultimately wipe out the entire population. They will give talks and presentations in local schools, community meetings and churches and will organize soccer competitions to solicit interest and support for pangolin conservation amongst local people. Nationally, they will write regular blogs and Facebook post and also publish in national newspapers to draw attention of pangolins in Ghana.
Final summary report (December 2017):
During the period supported by Fondation Ensemble, KNUST team led the activities planned in the project.
A low pangolin population density has been observed. Only two species have been recorded (the third one is supposed to be extinct in the zone since 10 years).
Coupled with this, various actions took place in schools and among communities. 200 people have been sensitized, some of them wishing to participate in the on-the-field studies.
Later, the NGO hopes to continue its actions in and around the reserve and notably improve the conservation conditions.
This project is partly funded thanks to the sponsorship of a generous donor. If you also wish to support initiatives towards threatened animal species conservation, click here.