Malawi
Energie renouvelable à Msamala (en anglais)
---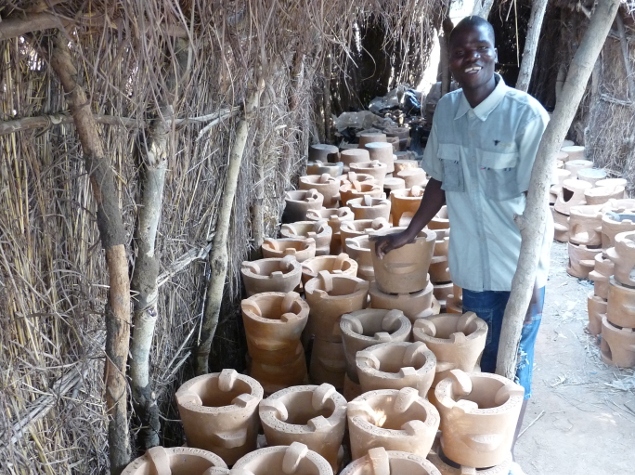 The project was implemented by Concern Universal in the area of Msamala in partnership with Balaka District Council. Balaka district has high levels of deforestation on customary land because of rampant cutting down of trees for charcoal and firewood selling.
Project monitoring/evaluation process
Five submissions of the project to the Project Monitoring Committee
Five reports submitted to the Project Monitoring Committee
FE field visits by Luc Bonnamour in October 2011 and Sophie Thomasset in March 2013.
(Independent) mid-term project evaluation in August 2011 and (independent) final evaluation in January 2013.
Overview of the objectives
Main objective:
Contribute to the eradication of extreme poverty of poor rural people, and contributing to the achievement of the Millenium Development Goals (MDG) and world Summit on Sustainable Development (WSSD) targets on energy.
Specific objective:
Bringing about improved, sustainable access to fuel wood energy for 140 000 people :
(i) village forest areas are created to meet demand for firewood, poles and timber
(ii) fuel efficient stoves at health centres as well as woodlots are initiated
(iii) 60% of households targeted are adopting fuel efficient stoves
(iv) installation of solar lighting in schools for 8,000 students and 40 teachers houses.
Results and Indicators (Phase II)**
Overall, the results are very good; the general and specific objectives have been achieved.
Increased community and district government capacity to manage energy resources
14 active and effective village natural resource management committees with equitable gender representation (100%)
321 communities empowered to identify, analyze, prioritize, plan and implement their own energy resource initiative (100%)
14 Village Development Committees (VDC) have supporting capacity for energy and natural resource management (100%)
14 Group Village Headmen restocked customary lands (100%)
Increased adoption of energy-efficient technologies by households and community institutions
59% households are using energy efficient cooking technologies (97%)
Clients/carers at all rural health centers are using energy efficient cooking technologies, and accessing sustainable sources of fuel wood within reasonable distance (100%)
8 remote rural schools have reasonable degree of solar-power lighting for staff houses and classroom blocks (100%)
Increased variety of sustainable and economically viable business
1392 women and men established in a variety of sustainable businesses (105%)
30 businesses stopped using unsustainable extractive practices (100%)
6 individual or groups businesses accessed loans from lending institutions (8%, project switched strategy to promote Village Savings Loans)
Increased collaboration between institutions and communities on energy issues
11 of the 12 health facilities have a woodlot for the firewood needs (100%)
Reforestation/Afforestation
200 tree nurseries established (393%) and 1,489,963 tree seedlings propagated (149%)
60% of transplanted tree seedlings survived at 6 months (100%)
24,000 Jatropha trees established (40%)
** The percentages in brackets indicate project performance in relation to each objective, thus reflecting the achievement rate.
Sustainability of the actions undertaken
The final evaluation assigned the project a score of 3/5 for sustainability, thus indicating that the project is viable. The main challenges to be addressed are market access and transportation of the stoves.
Conclusions of the final evaluation (Phases I and II), December 2012
The team concludes that the MSEP has achieved its overall objectives and intended outputs as evidenced by the number of households adopting energy saving technologies, number of schools installed with solar panels and health centres benefiting from Esparanza stoves installation. The project was relevant to the objectives of various national policies including the Malawi Growth and Development Strategy, Poverty Reduction Strategy Paper, National Energy Policy of 2003, National Environmental Policy and National Forest Policy of 1996. Effectiveness of the project in achieving the intended objectives is given a score of 4 as the project remained flexible in using REFLECT methodology and even supporting a site Kalembo that was not in the original proposal. The extent of sustainability of energy saving stoves component will be dependent on access to markets and transport availability. One would say Concern Universal subsidized on transport logistics for the beneficiaries to accelerate stove use without which the beneficiaries would have faced enormous challenges. However the major challenge has been low rainfall in the area resulting in crop failure and many beneficiaries taking up casual labour as the main source of livelihoods. Active involvement and participation of target groups and project beneficiaries has been instrumental in achieving project milestones and sustaining most of the interventions.
The capacity of the communities has been built through training in different areas and reduction of illiteracy. Extent of collaboration, participation of stakeholders has been enhanced through participatory planning, monitoring and evaluation. The training in maintenance of solar panels will improve sustainability of project activities. Since there is an increased demand for the project activities within Msamala area and beyond there is a strong need for CU to solicit for more funding to extend project activities to other areas within Balaka and beyond. The project has devel- oped working modalities with Project Concern International (PCI) on improved cook stoves, Village Savings and Loans, and linking farmers to markets on pigeon peas. Projects aimed at promoting energy efficient cook stoves have great potential of being sustainable after project phase out only if the groups are supported with business skills as well as access to market.
Recommendations
In light of the evaluation findings, the following recommendations are made:
To improve sustainability of the project activities MSEP stakeholders should seek support on continuation of activities through funds from GEF small grants project, Malawi Environmental Endowment Trust, development partners such as DFID, Norwegian government, Irish Aid, USAID among others.
In implementation of different project activities by NGOs a component on promotion of energy efficient technologies should be taken as a cross cutting issue as is the case with issues of gender, HIV/AIDS and human rights.
Concern Universal should scale out promotion of energy saving stoves to other areas in Malawi and include modalities for carbon finance so as to benefit the communities better.
The use of REFLECT approach should be incorporated into district decentralized planning process so that institutions wishing to implement project activities can easily prioritize areas for interventions.
To improve participation of men in REFLECT circles there is need to focus on development project where literacy should be part of the project rather than focusing on improving literacy levels.
In future project development Concern Universal should consider participatory budgeting with district assembly to accommodate priority needs for project sites.
For future design and implementation of similar projects, it is recommended that Concern Universal could explore the possibility of requesting upfront payment of "seed funds" from potential donors to use for REFLECT Circles in potential sites for implementation of similar project. Experience has shown that with these, important components of project will be identified in advance.
&nsbp;
Conclusion of the Ex-Post visit – June 2016
This project was very diversified with complementary and interesting activities and some are still continuing under other programmes (including promotion of solar lamps in partnership with SolarAid). The final evaluation had shown the good results of the project and this ex-post visit confirms the sustainability of the actions realised.
It is impressive to see how far the beneficiaries have embraced the solutions proposed and how committed they are in their new activities. And if CU had the opportunity, it would be very interesting to give to the groups some specific additional support to help them to continue the development of their businesses.