Myanmar
Marine Environmental Conservation and Fisheries Co-management in Kawthaung township, Tanintharyi – MARE
---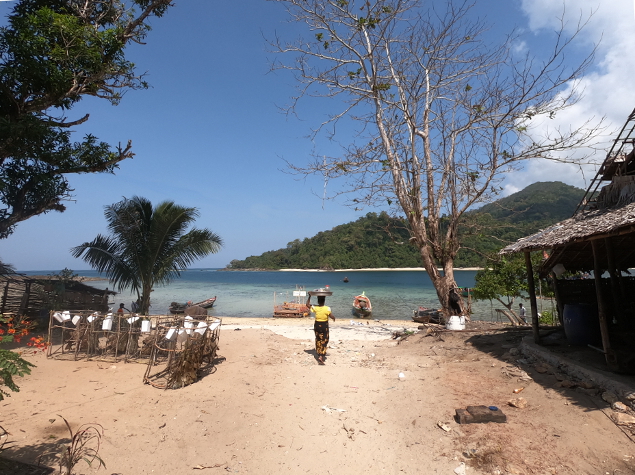 Context:
Kawthaung district hosts the only marine national park of Myanmar, Lampi, where Istituto Oikos operates since 2009 (with ongoing support from Fondation Ensemble, see here). Along the coastline, over 80% of people are directly or indirectly involved in small-scale fisheries for livelihoods and subsistence. However, they are rarely involved in decision-making or planning processes. Interviews conducted by Oikos suggested a sharp decline in catch over the past 5 years and evidence of inshore fisheries bycatch, including a range of globally threatened species. The number of fishing boats has increased and destructive techniques such as dynamite fishing, trawling and fishing with artificial lights are widespread. Local fisheries also compete with commercial ones whose fishing vessels illegally come near to the shore, destroying traps and nets of local fishers as well as the spawning grounds of fish.
Additionally, poorly planned and uncontrolled tourism development is responsible for the conversion of over 50% of coastal land in the target area for construction of tourism resorts which can lead to the destruction of near-shore habitats.
In this context, in January 2020, the Myanmar Department of Fisheries (DoF) declared a new 1,211,400 ha national Marine Protected Area (MPA) with 4 no-take zones covering both inshore and offshore areas. At present, only the borders of the MPA, which also includes Lampi Marine National Park (LMNP) were designated, specific regulations for its implementation and enforcement have yet to be issued. Despite its significance, the MPA creation poses new challenges in terms of management and enforcement and the DoF requires technical support to establish co-management agreements with affected artisanal fishers.
Improvement is also required to simplify the regulatory framework for marine conservation, and reinforce capacities of local authorities to engage communities in sustainable fisheries management.
Main objective:
The main objective of this project is to promote marine environmental conservation and sustainable livelihoods in southern Tanintharyi state through the implementation of inshore fisheries co-management.
Activities:
The collection and sharing of marine scientific data will be increased and improved as well as their integration in governance mechanisms. Data will be collected on target species (mackerel, squids, shrimps, mud crabs, swimming crabs) in collaboration with Myeik and Exeter universities, involving local and international researchers as well as local authorities. Data storage and sharing systems to facilitate data flow will be developed. The project team will also participate in existing platforms for information sharing and advocacy.
The coordination and cooperation among national and local stakeholders towards effective policy and practice will be strengthen. Fishery co-management and sustainable livelihood opportunities for coastal communities will be developed. 5 Village Fisheries Associations (VFAs) will be established and supported to formulate a set of by-laws. Regular meetings will be held, and a patrolling system set up. VFAs will be provided with patrolling equipment and will receive training. The Exeter University will guide a participatory mapping of Locally Managed Marine Areas (LMMAs). Village Saving and Loan Associations (VSLAs) will be created in target villages ensuring an equal gender representation. Awareness on sustainable fishing practices, environmental conservation and sexual reproductive health will also be held in target villages (including schools).